Crock Pot Meatloaf
This recipe requires no lead up. You know it, you like it, you probably have had it a million times with just as many little variations. Let's go simple and make a flavorful loaf for dinner that will please the whole family. Meatloaf also reheats and freezes well, so if you happen to have leftovers (yeah right!) go ahead and have a meatloaf sandwich for lunch tomorrow.
One note: You can make this with a mix of meats, if you prefer. Try half beef, half turkey or a mix of beef and bison. The directions stay the same, but the flavor and texture with change slightly. 
Crock Pot Meatloaf
(serves 4-6)
1 pound 90/10 ground beef
1 egg
2 T. minced sweet onion
1/2 c. panko bread crumbs
1 T. brown sugar
1 T. ketchup (one good squirt!)
1/2 t. dried dill
1 t. fresh thyme leaves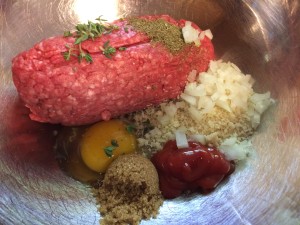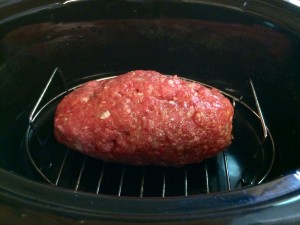 Mix all ingredients together and form into a loaf shape. Put in crock pot or on trivet insert if you have one available. Cook on low for 4 hours.
(If you need a trivet for your crock pot, try this one: http://amzn.to/1Iopz4m)