Crock Pot Mississippi Pot Roast
Let me begin with a disclaimer: this is not my recipe. I don't even know who created this recipe. I found about a gazillion posts about Missisippi Pot Roast and they all call for the same stuff in the same way.
So why am I posting it here? Because I like you. And I think you like me. And if you trust my opinion on all things crock-pottery, then I wanted to try this internet sensation for myself and share it with you.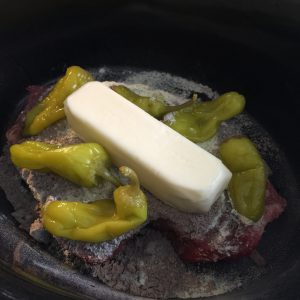 The prep work for this dinner is non-existent. Not kidding. It took longer to pose my cute little pepperoncinis for this picture, than it took to get everything in the post. (Did anyone else just think dirty thoughts when I said "cute little pepperoncinis"? No? Oh, ok. Yeah, me neither.)
So after two minutes of work, dinner is ready for tonight. The raving reviews are ALL true, this dish might just be the newest family favorite– to cook and eat.
Not only is it easy, but for those of you that work ALL DAY, this is a great tender meat dish that goes low and slow for 8 hours. If your crock pot switches to warm, then that's even better for you commuters. You got this. A real dinner that won't be overcooked or dry when you get home. I know… promises, promises. But it's true!
My family ate well, enjoyed the soft, tender pot roast, and didn't even ask for ketchup. Come on, people! You know that means it had crazy delicious flavor if my seven year old didn't cover it in red goo! Enjoy. 🙂
(Note: You can opt to only use half of the packet of au jus gravy mix if you want to cut down on salt. It will still taste great!)
---
Crock Pot Mississippi Pot Roast
Serves 6-8
Prep Time: 5 minutes
Cook Time: 8 hours
2-3 lb pot roast
1 packet Ranch Dip (1 oz dried mix)
1 packet Au Jus Gravy Mix (0.6 oz dried mix)
1 stick butter
6 whole pepperoncini peppers, no added juice
Put the pot roast in the bottom of the crock pot. Shake dried mixes out on top of meat. Place stick of butter in middle of roast, then surround with pepperoncini. DO NOT ADD WATER. Cook on low for 8 hours. Shred or slice to serve, as sandwiches or with pasta, rice, or potatoes.