Forget that Mary Poppins crap, my favorite things have nothing to do with rainbows or kittens. In every room of my house, I've been known to simplify, down-size, update or re-organize. But my kitchen (insert content sigh here!) it's full of cutesie, single purpose items, that coordinate, decorate or accentuate my meals. I LOVE kitchen gadgets.
My kitchen is organized by purpose and size and I can always find what I'm looking for, so I don't think it's cluttered or compromised by my collection (and no, I'm not just in denial!). As I look around this haven, I thought it would be fun to write out my favorites for you and give you the chance to add them to your own collection. Think about the foods that you make, the entertaining you do and the ways that you can add a little flare to your flavors.
In no particular order, these are the Top 10, but they are ALL favorites in my kitchen:
1. Silicone Baker's Pin
: When you roll out dough with this pin, you can feel the thickness better than using a traditional rolling pin. It also is easy to clean and isn't porous like wood.  The downside is that it's unusual in size and hard to store, but the pretty red exterior makes it fun to leave out too. It also doubles as a lethal weapon against anyone that wants to bad talk your cooking.
2. Cheese Slicer
: I fell in love with this cutting board while having a 3 am snack with a close friend, during her eighth month of pregnancy. Halfway through our second brick of sharp cheddar, I realized that the design and convenience were both top notch. It makes great sense to have a slicer attached to a cutting board and it comes with replacement wires so your cheesiness can last forever. Read more
I'm pretty sure everyone has a grandmother-aged person in their life that makes the "perfect brisket". It's moist, juicy, flavorful and pulls apart perfectly. We've tried and tried to repeat the old world secrets, but somehow our ovens continue to dry out the meat or make it tough to chew. Look no further– grandma might not have used a slow cooker, but these recipes are very easy and have amazing results. 
Here's a great little nugget for you: my mom always cut off the last inch of the brisket before cooking it. I figured it was because of how she trimmed off the fat, skimming the top of the cut of meat and then cutting off the chunk at the end. I asked her about it and she said that it was how her grandmother did it. So I asked my grandmother why her mom cooked the meat in that particular way and she said, "because her pan was too small, the meat never seemed to fit right so she cut off the end so the brisket would lay flat."  It's funny how traditions begin.
If you are looking for a pulled beef sandwich to serve at a spring BBQ, fork apart the meat when it is done, then top it with your favorite BBQ sauce and serve it on a braided roll. Oh– was it mean to say BRAIDED ROLL to those of you celebrating Passover? My bad.
EASY difficulty brisket
1 3 lb. beef brisket
1 bottle italian dressing Read more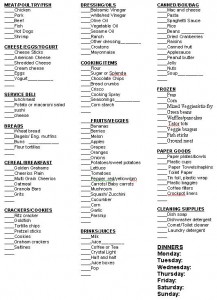 Do you ever feel like your day is moving so fast, you might get a metaphorical speeding ticket? And that you'd enjoy being pulled over in the traffic of life because it means that you could stop moving for just a minute?! Some days definitely feel like that, but in order to maintain less madness, I try to be (ok, obsessively) organized. I have lists: to do lists, grocery lists, lists for my husband, wish lists and even a few mental notes to self. There is nothing more gratifying to me that seeing an entire list illuminated by bright pink highlighter and to feel the page wilting from the weight of my successes. Yeah, I'm like that.
And while it's somewhat entertaining, I think my lists are actually pretty useful, so I'm going to share one with you today. I downloaded this a couple years ago and then adapted it to my specific wants/needs. My apologies to whatever web site posted this originally, I honestly don't remember where it came from.  But when I need to restock the kitchen, this helps me stay focused and ultimately get only what I need, so that I save myself from the frivolous whims of grocery store end caps.
Start list list from the bottom– fill in what you'd like to have for dinner most nights. It's ok if you just write "Monday- chicken, veggie" or "Tuesday- CP lentil soup" (CP= crock pot).  Give yourself a target of what you'd like to eat and then work up the list, Read more
Some days you might consider dumping everything in a crockpot to still be too much work. I know some of you have great intentions, but that crockpot is still sitting in a box in your basement. Or, the idea of scrubbing the caramelized tidbits from the sides might convince you not to try. Trust me, one pot meals are the easiest way to save time in prep and clean up. Once you start with your crock pot, you'll realize that it is the best kitchen small appliance you have— other than your coffee pot, of course.
So let's start simple. Here are some easy things to try that don't require a lot of work, clean up or preparation.
1. Rice: your crock pot can also be a rice cooker. 1 cup rice to 2 cups water on high. You need to check it to see when it's fluffy and done because the time can vary depending on the rice, but the ratio should be the same for all varieties.
2. Sweet potatoes: wash them (don't pat dry), leave the skin on and put them in the crockpot for 4-6 hours on low. They will create enough liquid to cook all the way through. If you want to make it fancy, peel and cube the potatoes, then add a couple T. of butter and brown sugar to the pot for a sweet treat. I wouldn't be offended if you added mini-marshmellows at the end either!
3. Sauces: Many times you will read that I've created a sauce or a glaze or thickened up a gravy. But honestly, you can use most bottled sauces on meats and veggies just fine. BBQ, sweet and sour, teriyaki, italian dressing and broth all make for excellent flavors in the crock pot.  Read more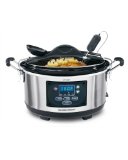 I had a tough workout at the gym this morning, getting brutalized by my trainer for a solid hour. After a quick shower, I threw on my clothes and slumped down by the lockers to apply some quick makeup.  Another woman asked me, "how can you put your makeup on without a mirror??" I replied, "well, this has been my face for a really long time. I guess I just know it."
That's how I feel about my recipes too.  I have to remake some of these dishes so I can write down how it's done, what to measure and how to cook it. I've been cooking for most of my life and while I might search a cookbook for inspiration, I am hardly an engineer about my cooking.  So writing this blog is a fun way for me to examine my favorites so I can share them with you.
I've been asked to post more "how to" suggestions about crock potting.  Here are some tried and true methods to make your meals even easier.
1. The crockpot is meant to cook everything without Read more