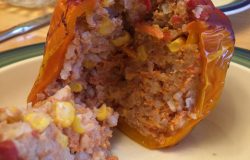 Posted on by Valerie in Uncategorized.

My favorite season is sunshine. I don't really care what month of the year it actually is… if the sun is beaming and I can feel the warmth on my face then it's my favorite season, for sure.  Fall brings lots of sunshine– and rain– and over programming of school functions, sports, travels, holidays, and chaos. […]

Continue Reading... No Comments.
Posted on by Valerie in Appetizer, Dinner, Recipes, Side dishes, vegetarian.

I love when my friends and fans share their recipes… everyone loves a good crock pot dish that is worthy of sharing! So from one crock pot fanatic to another, here is Sarah's recipe for vegetable chili. It sounds like a great way to use fresh produce and also make a vegetarian dish that will […]

Continue Reading... No Comments.