Do you ever stock up on meat when it's on sale and freeze it, only to then have to come up with a meal that specifically uses that "great deal" before it gets freezer burnt?! Yeah, that's what I'm going through today. I thawed out a package of sweet italian ground sausage. I'm sure I bought it with some sort of intention…. but then it got buried in the freezer under half a dozen packages of frozen vegetables. After making winter vegetable soup, I found my meat stash and now had to face the task of figuring out what to make with the ground sausage.
Normally, you can substitute ground sausage in most ground beef or ground turkey recipes. It makes great chili, an incredible lasagna and even is creative in meatloaf. But I wanted to work on a recipe that truly highlighted the spices of the sweet italian sausage. You can use any variety of sausage, just understand that the flavors will ultimately completely change up the overall dish– so if you want hot sausage or you want to un-case a beer bratwurst, that's totally fine. You can play with the flavors by changing up your meat selection– or using up something you find in the bottom of your freezer!  
So tonight, we're having crock pot dirty rice. I love that this dish uses the word "dirty", but it's so true. This is the antithesis of steamed, white rice. It muddles together all the flavors from the spicy meat and the sweet vegetables and somehow the tomato paste marries it all together. Yes, that's what this is– a "dirty" "marriage" of flavors. Ha! I hope you enjoy this classic spicy one-pot meal and that it warms up your winter night.
1 lb sausage, crumbled and browned
3 cups water
1 cup uncooked long grain rice
1/2 large onion, finely chopped
1/2 large red bell pepper, finely chopped Read more
This afternoon, I went with my family to an apple orchard to pick fresh, local produce to enjoy. It felt organic. Not in the "lacking chemicals and pesticides" way, but in the "feeling connected to the earth and supporting something good". My kids loved picking the fruit and sampling all the different kinds of apples.  I am eager to make my escalloped apples recipe as soon as possible.
 But the best part of the day was coming home to dinner already made and a very hungry family to feed!
One of my favorite meals to cook and eat is pot roast– meat, potatoes, carrots, celery, onions… all the basics. It's so filling and full of great nutrients. One crock pot is a whole meal. But sometimes I like to vary it up a little.  I made a very similar recipe today, but instead of beef, I used three turkey legs as our protein.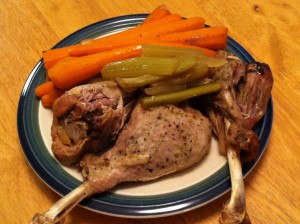 The meat becomes so tender it falls off the bone. I used whole carrots because they make such a nice presentation and Read more
I have a real problem with breasts. Even when they are big and juicy, I just don't like them.
Haha, now that I have your attention, let me explain. I'm not really a fan of boneless, skinless chicken breasts. I know that they are healthy and lean and great protein, but I just don't love the texture or the challenge of cooking them. When we grill them, I always feel like they get too done on the outside to make sure that they are cooked all the way through.  In the oven, they just have too much of a tendency to dry out. So of course– I cook mine in the crock pot so that they stay moist and soft.
I thawed out a package of four chicken breasts and after staring at them for three days in the refrigerator, I knew I either had to cook them or throw them out. So here's what I did…. I cooked them, I shredded them, I covered them in hot sauce and I served them on a bun with some cheese and ranch dressing. THERE WERE NO LEFTOVERS!!! It worked! I like (chicken) breasts!
I used a bottle of Ken's Steakhouse Buffalo Wing Sauce on my chicken, but if you'd rather have barbeque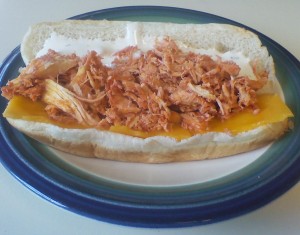 sauce or even something sweet like teriyaki, it would work well for this recipe.  We really like chicken wings at restaurants, but it makes such a mess to fry them at home– this recipe gives the flavor without the mess or the fat.  When you cook the chicken in the apple juice, it gives it a little extra zing and then the sauce just saturates the meat with flavor. Enjoy!!
1.5-2 lbs boneless, skinless chicken breasts
3/4 c. 100% apple juice
1 bottle Ken's Steakhouse Buffalo Wing Sauce
(hot dogs buns, cheddar cheese, ranch dressing… and celery sticks on the side, of course!)
Put chicken breasts in crock pot, then pour apple juice in. Cook on high for three hours. Use a baster to remove the excess liquid, then using two forks or a fork and a knife, shred the meat in the crock pot. Pour sauce in next and stir until all meat is coated. It's hard to say exactly how many ounces of sauce because it depends on how much meat you used. But add a little sauce at a time until you have enough, but the meat isn't swimming. Cook for one more hour on low. Serve meat on a hot dog bun with cheese and ranch (or blue cheese) dressing.
I'm totally enjoying soups this week and I hope you are getting a chance to enjoy some of these recipes too. I love it when I can make an entire meal in ONE pot and feed the whole family. This soup is a variation on my crock pot potato soup recipe (search for it in the recipe index) and adds in the unique sweetness of parsnips and carrots and sweet onions.
Even though it's almost spring, we still need to survive on the rest of winter's vegetables. If you can already grow things in your garden or windowsill, try adding fresh herbs like flat parsley, dill or chives to your soup when it is done cooking. I think you'll find the promise of spring in the soothing warmth of this chowder. Enjoy!
4 medium potatoes, peeled and diced
3 medium parsnips, peeled and diced
3 medium carrots, peeled and diced
2 stalks celery, diced
2 cloves garlic, minced
1/2 medium sweet onion, chopped
3 c. water
1 t. salt
1/2 t. black pepper
1 t. celery seed
1 c. milk
1 T. corn starch
1 can cream-style corn
Put all vegetables and seasonings in crock pot, cover with water. Cook on high for 4 hours. When vegetables are all soft, dissolve corn starch in milk and then add to crock pot. Add cream-style corn and mix ingredients together. Cook on low one more hour. Use an immersion blender and puree the soup until thick and creamy. Serve with fresh parsley, dill or chives on top.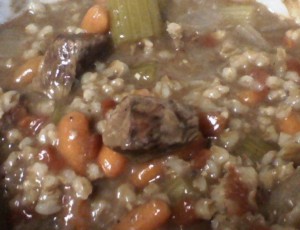 Here's your history lesson for today, folks… let's learn about barley. If you are a "meat and potatoes" kind of person, barley is a great item to add to your grocery list. Barley rations go all the way back to biblical times, I think, it's healthy, hearty and inexpensive;  is one of the world's top harvested grains; and here's a fun one– one of its main purposes is for producing beer and malted beverages.
Now that you've done your studies, let's prepare your eats! This stew is meaty and thick and satisfies the hungriest belly. It is a meal in itself, but I prefer a small bowl of it with a side salad— and a beer, so I can be consuming barley in multiple forms.

This is a nice variation to the common beef stew.
On a nice fall day like today, your house will be filled with the warm smell of meat, vegetables and an easy dinner. Enjoy!
1 lb. beef stew meat chunks
1 c. baby carrots
4 stalks of celery, cut into chunks Read more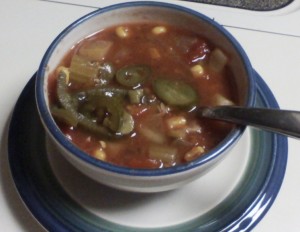 I am fortunate to have a husband that loves my cooking and loves to eat.  He tries everything I make and is very agreeable about most of it. But today, I had the privilege of watching my husband cook his first crock pot meal. And it turned out great!
Today's soup includes a lot of produce, but unlike my normal vegetarian vegetable soup which has small bits of lots of vegetables, my hubby's recipe includes chunkier cuts of vegetables and not as much variety. The real kicker of this soup is the topping– add a few jalapeno peppers and you've got a treat to eat without any meat!

I definitely encourage you to Read more
 One of my favorite new indulgences is Thai food.  I started a few years ago with Pad Thai. It's like the thai version of lomein, which is really just a step above the college-grade ramen noodle. But it started to introduce me to new flavors. Then, I moved up and through a few of the curry dishes; I quickly learned my ridiculously low capabilities for spicy food. I like my thai dishes with either chicken, tofu or shrimp– I just think think that these proteins absorb the most flavor from everything else it's cooked in.
There are some particular seasonings for Thai food, though, and I just don't keep these things in my kitchen yet.  So while I'd love to have lemongrass and keffir lime leaves abundantly available or even know where to buy some galangal, I'm replacing some of these flavors with some easier go-to foods that you can find at your regular grocery store.
My crock pot Thai chicken soup is an interpretation of a traditional Thai tom kha soup. It still has the coconut milk, chicken and mushrooms, but I use ginger instead of galangal and lime juice for Read more
Tonight is open house at my son's school and the timing  makes dinner as a family tough. So, it is going to be date night instead— but eating out is expensive, so I'll feed the kids early and then us parents can eat when we get home (and the kids are sleeping!). But since I'm not sure what time we'll get home from the school, I'm going to start the crock pot late this afternoon so that dinner is ready when we get back.
One of my favorite appetizers is those amazing sauced up thai chicken wraps that you can get at fancy Asian-inspired restaurants. The unfortunate part is that the lettuce is totally an illusion making you think this is a healthy choice. The typical sauce is usually full of really salty, sugary, high calorie ingredients that I totally don't want to indulge in tonight. So I've come up with a healthier way to enjoy this treat, using the crock pot to get the most out of all the flavors and then whipping up a quick sauce in a pan to coat the whole mixture.
Most restaurants serve this dish with iceberg lettuce because it is crisp, but you can also use leaves of romaine lettuce or even tortillas. I hope you get to enjoy this at your next date night at home, too!
2 stalks celery, chopped Read more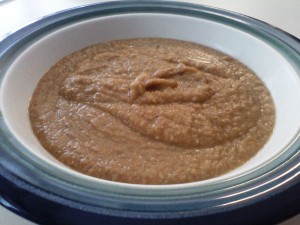 Most of you probably just read the title of this recipe and giggled. Yes, cowpea sounds a lot like cow pie. In fact, cow pee makes it seem even more funny. So if you haven't heard of a cowpea before, let me tell you a little about it. But seriously, you can stop giggling now. Cowpeas are meaty little legumes that come in long pods. Once you pull the string off, you'll see the tightly packed peas pop out of the pod. They are sometimes classified as a black-eyed pea, but you can also get purple-eyed ones, they can be green, white or dark in color and they are hearty little nuggets to cook. 
When you can get them fresh, you are good to go once they are out of the pod. If you get them dried, then you need to soak them in water overnight for about 8 hours and then rinse them a few times before you throw them in the pot.
Cowpeas are common in a lot of Read more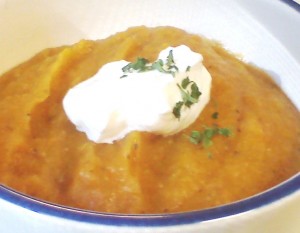 As much as winter is the time for soups and stews, I really like summer soups too. This one isn't too hearty since it's a puree and I think it tastes really light when it is served warm, not hot.  I've had to become really creative with vegetables this summer— with so much amazing local produce, I tend to over buy!
I like to base this recipe on carrots, because the orange color of the puree is so inviting, but feel free to experiment with whatever is in your basket. Just remember to include a starch (potato, sweet potato, kohlrabi, etc.) to help thicken the dish and something sweet (apple, beet, melon, peach) to make this unique for summer. Herbs are totally up to your discretion, too. I like fresh basil, but if you have rosemary or thyme or some oregano, those would be great as well.
Whatever you do, you are making a crock pot of wonderful by using fresh vegetables and your imagination. This should be served in a bowl, but it's perfect when it's thicker than soup, but thinner than mashed potatoes.  PS– it's also a GREAT puree for baby food, but you can make it for your whole family to eat.  Enjoy!
4 c. fresh carrots
2 stalks celery, chopped
2 yellow squash, cut into chunks
1 medium sweet onion, chopped
2 medium potatoes, cut into chunks
1 medium apple, cut off of core
2-3 cloves garlic, chopped
1 t. salt
1/2 t. black pepper
6-8 leaves fresh basil
2-3 c. vegetable broth
Put all vegetables and herbs into the crock pot, pour broth on top. Cook on high for 6 hours.  Using immulsion blender, puree in pot. (If you don't have one, then let dish cool and puree in batches in a standard blender.) Serve with a dollop of sour cream or greek yogurt on top and a sprinkle of fresh herbs.