Posted on by Valerie in Appetizer, Recipes, vegetarian.

Summer is a great time for backyard BBQs, gathering with friends and family and enjoying lots of tasty treats. Here is a great recipe that is quick and easy to make, but everyone loves to enjoy! Serve this in the crock pot so that it stays hot and creamy. Accompany this spicy crowd-pleaser with crackers, […]

Continue Reading... No Comments.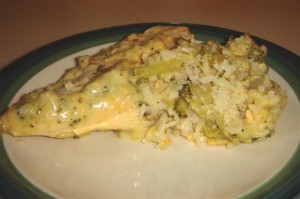 Posted on by Valerie in Dinner, Recipes, Side dishes.

This recipe gives me crazy flashbacks! My mom use to make this when I was a kid. She made it in the oven, but it was almost the same recipe— broccoli, chicken, rice and some sauce that had a little bit of an orange color but didn't taste at all like oranges. It took me […]

Continue Reading... 1 Comment.