Crock Pot Chicken Divan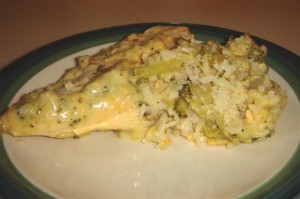 This recipe gives me crazy flashbacks! My mom use to make this when I was a kid. She made it in the oven, but it was almost the same recipe— broccoli, chicken, rice and some sauce that had a little bit of an orange color but didn't taste at all like oranges. It took me a few more years of life to find out that the color was from the curry powder. I think Crayola should add the crayon color "curry".  
It's hard sometimes for my taste buds to explain the flavors to my head, but I think I've figured out most of my mom's recipe.  I've added the crock pot. Maybe the celery seed, too, but I think it adds a nice flavor. I start with frozen chicken breasts because I never think ahead to thaw it out and I don't like when I defrost it in the microwave and then the edges get a little cooked and weird. Using frozen chicken breasts works just fine, it will defrost and cook and fall apart into the creamy goodness of the sauce and the starch of the rice and absorb all of the spices by the time it's done.
This home cooking will serve a table full of happy tummies and happy hearts. Enjoy!
1 lb. frozen broccoli cuts
1 c. uncooked white rice
3-4 boneless, skinless chicken breasts
1 can cream of chicken soup
1 t. Worchestershire sauce
1 t. fresh lemon juice
2 t. curry powder
1/2  t. celery seed
1/2 t. ground black pepper
2 T. melted butter
1 c. shredded cheddar cheese
1/2 c. Parmesan cheese sprinkles
1/2 c. milk
1/2 c. mayonnaise
Put frozen broccoli in crock pot first. Sprinkle with rice. Lay chicken breasts on top. Mix remaining ingredients in a separate bowl and then pour on top of chicken. Cook on high for 4 hours. Prior to serving, shred chicken and mix everything together.