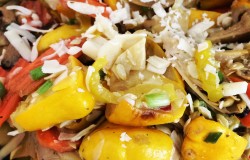 Posted on by Valerie in Appetizer, Dinner, Recipes, Side dishes, vegetarian.

Summer is almost here which means it is officially BBQ season! I love starting side dishes in my crock pot and then finishing them with fresh veggies and herbs. So for this past weekend's festivities, I picked up some pattypan squash at my local farmer's market. I think they are so cute and fun to […]

Continue Reading... No Comments.