This afternoon, I went with my family to an apple orchard to pick fresh, local produce to enjoy. It felt organic. Not in the "lacking chemicals and pesticides" way, but in the "feeling connected to the earth and supporting something good". My kids loved picking the fruit and sampling all the different kinds of apples.  I am eager to make my escalloped apples recipe as soon as possible.
 But the best part of the day was coming home to dinner already made and a very hungry family to feed!
One of my favorite meals to cook and eat is pot roast– meat, potatoes, carrots, celery, onions… all the basics. It's so filling and full of great nutrients. One crock pot is a whole meal. But sometimes I like to vary it up a little.  I made a very similar recipe today, but instead of beef, I used three turkey legs as our protein.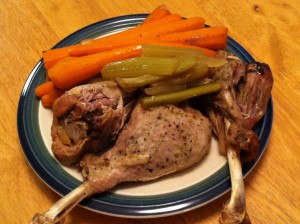 The meat becomes so tender it falls off the bone. I used whole carrots because they make such a nice presentation and Read more
I'm totally enjoying soups this week and I hope you are getting a chance to enjoy some of these recipes too. I love it when I can make an entire meal in ONE pot and feed the whole family. This soup is a variation on my crock pot potato soup recipe (search for it in the recipe index) and adds in the unique sweetness of parsnips and carrots and sweet onions.
Even though it's almost spring, we still need to survive on the rest of winter's vegetables. If you can already grow things in your garden or windowsill, try adding fresh herbs like flat parsley, dill or chives to your soup when it is done cooking. I think you'll find the promise of spring in the soothing warmth of this chowder. Enjoy!
4 medium potatoes, peeled and diced
3 medium parsnips, peeled and diced
3 medium carrots, peeled and diced
2 stalks celery, diced
2 cloves garlic, minced
1/2 medium sweet onion, chopped
3 c. water
1 t. salt
1/2 t. black pepper
1 t. celery seed
1 c. milk
1 T. corn starch
1 can cream-style corn
Put all vegetables and seasonings in crock pot, cover with water. Cook on high for 4 hours. When vegetables are all soft, dissolve corn starch in milk and then add to crock pot. Add cream-style corn and mix ingredients together. Cook on low one more hour. Use an immersion blender and puree the soup until thick and creamy. Serve with fresh parsley, dill or chives on top.
This recipe comes from my friend I.H.K. and she is an amazing cook. This soup is thick and chunky and a whole meal in one bowl. She recommends serving it with tortilla chips or corn bread.  Using an immersion blender can really change a soup from drab to fab by altering the consistency to be smooth and creamy instead of watery.
Since this recipe takes 8 hours on low, it's a great one to start before you leave for work in the morning and then come home to a beautiful dinner. Take a chance on this vegetarian chowder and enjoy!
2-3 large sweet potatoes, peeled and cubed (about 1/2 inch)
1 medium onion, chopped
1 can whole-kernel corn (15-16 oz.), drained
1 can creamed corn
1 teaspoon salt
fresh ground black pepper, to taste
2 cups broth (I use the vegetarian "chicken" flavor)
2 cups half-and-half or whole milk (depending on how virtuous you want to be)
4 tablespoons unsalted butter
1 teaspoon smoked sweet or hot paprika (optional)
1 cup of shredded cheddar cheese
Put first set of ingredients in crock pot and cook for about 8 hours on low or for 4 hours on high. Once the sweet potatoes are tender, stir everything together. Use an immersion blender to break up the ingredients as much as you want–I like my chowder chunky, but breaking up some of the sweet potatoes and corn makes the soup thicker and more luxurious. When only 1 hour of cooking time is left (if the slow cooker has been on high, turn down to low) ADD: half and half or milk, butter, paprika and cheddar cheese.
Our county schools have been out of school for three days and the grocery has been out of milk for two. Oh, the fun of a southern winter! I have decided not to venture out until the roads are better so I'm getting creative with foods from the pantry and freezer.
Since we've already had crock pot soup and grilled cheese sandwiches and also crock pot Cincinnati chili, I thought it would be fun to do a crock pot breakfast for dinner.  I like finding new ways to remake some of our favorites, using the crock pot to my advantage. So this is my rendition of our breakfast favorites.
1 c. quick grits
4 c. water
1 c. shredded cheddar cheese
6 turkey sausage precooked breakfast links, thawed and sliced thin
1/2 t. salt
1/2 t. black pepper
Put all ingredients in crock pot and stir. Cook on high for 3 hours. Consistency should be thick and almost creamy– all grit particles should be softened and cheese melted throughout. When serving, top with your choice of salsa, peppered gravy, shredded cheese, butter, salt and/or pepper.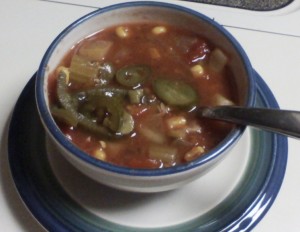 I am fortunate to have a husband that loves my cooking and loves to eat.  He tries everything I make and is very agreeable about most of it. But today, I had the privilege of watching my husband cook his first crock pot meal. And it turned out great!
Today's soup includes a lot of produce, but unlike my normal vegetarian vegetable soup which has small bits of lots of vegetables, my hubby's recipe includes chunkier cuts of vegetables and not as much variety. The real kicker of this soup is the topping– add a few jalapeno peppers and you've got a treat to eat without any meat!

I definitely encourage you to Read more
If you read my post about the cute $7 crockpot that I saw on sale last week, this recipe would be the perfect fit for it! If you have a "little dipper" sized crock pot, you can make this dip and then use the crock pot to serve it and keep it warm. I thought these flavors fused together well for an easy afternoon snack.
I'd recommend serving my summer onion dip with crisp pita chips, wavy potato chips, baby carrots and cut up celery. It also would be great on a baked potato! It's a basic enough recipe that it would be great on top of pretty much anything. Enjoy!
1/2 c. chopped basil leaves
juice of 1 lemon
8 oz. cream cheese, warmed Read more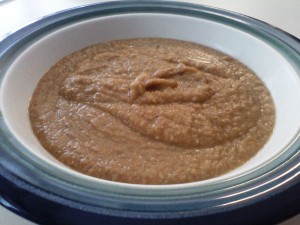 Most of you probably just read the title of this recipe and giggled. Yes, cowpea sounds a lot like cow pie. In fact, cow pee makes it seem even more funny. So if you haven't heard of a cowpea before, let me tell you a little about it. But seriously, you can stop giggling now. Cowpeas are meaty little legumes that come in long pods. Once you pull the string off, you'll see the tightly packed peas pop out of the pod. They are sometimes classified as a black-eyed pea, but you can also get purple-eyed ones, they can be green, white or dark in color and they are hearty little nuggets to cook. 
When you can get them fresh, you are good to go once they are out of the pod. If you get them dried, then you need to soak them in water overnight for about 8 hours and then rinse them a few times before you throw them in the pot.
Cowpeas are common in a lot of Read more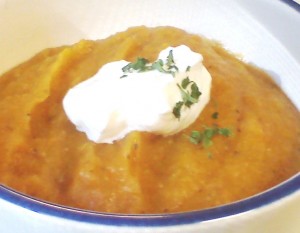 As much as winter is the time for soups and stews, I really like summer soups too. This one isn't too hearty since it's a puree and I think it tastes really light when it is served warm, not hot.  I've had to become really creative with vegetables this summer— with so much amazing local produce, I tend to over buy!
I like to base this recipe on carrots, because the orange color of the puree is so inviting, but feel free to experiment with whatever is in your basket. Just remember to include a starch (potato, sweet potato, kohlrabi, etc.) to help thicken the dish and something sweet (apple, beet, melon, peach) to make this unique for summer. Herbs are totally up to your discretion, too. I like fresh basil, but if you have rosemary or thyme or some oregano, those would be great as well.
Whatever you do, you are making a crock pot of wonderful by using fresh vegetables and your imagination. This should be served in a bowl, but it's perfect when it's thicker than soup, but thinner than mashed potatoes.  PS– it's also a GREAT puree for baby food, but you can make it for your whole family to eat.  Enjoy!
4 c. fresh carrots
2 stalks celery, chopped
2 yellow squash, cut into chunks
1 medium sweet onion, chopped
2 medium potatoes, cut into chunks
1 medium apple, cut off of core
2-3 cloves garlic, chopped
1 t. salt
1/2 t. black pepper
6-8 leaves fresh basil
2-3 c. vegetable broth
Put all vegetables and herbs into the crock pot, pour broth on top. Cook on high for 6 hours.  Using immulsion blender, puree in pot. (If you don't have one, then let dish cool and puree in batches in a standard blender.) Serve with a dollop of sour cream or greek yogurt on top and a sprinkle of fresh herbs.
I opened up my weekly CSA delivery and was so excited to see the ripe, fragrant produce. One thing in particular caught my attention– OKRA. The first thing I thought of was some hot, spicy gumbo.  I think half of what I unpacked is going to end up in the gumbo— okra, tomatoes, basil, corn, green pepper… now if only I stopped at a farm for some chicken and then headed to the coast for some shrimp, but I guess I'll have to buy those at the grocery store.
Gumbo is a perfect recipe for the crock pot because it needs to simmer for a long time to fuse all those flavors together. Cut your veggies into small pieces so you can have a bit of each morsel in your mouth! This soup would also freeze really well, so make the gumbo for dinner this week and then enjoy all these fresh treats again later this fall when they aren't so available.
This soup can also be made vegetarian if you leave out the chicken, sausage and shrimp. I'd amp up the amount of veggies though and maybe get a little more okra, so that this tastes more robust and unique than just vegetarian vegetable soup.  You can also use Morningstar Farms chicken strips (fake meat) if you'd like to add some protein.  Enjoy!
2 boneless, skinless chicken breast, cut into 1/2 inch cubes
1/2 lb. okra, sliced
1 c. of corn (cut off of fresh ears)
1/2 sweet onion, chopped
1 green pepper, seeded and chopped
3-4 ripe, sweet tomatoes, seeded and chopped
3 carrots, peeled and sliced thin
2 stalks celery, sliced
4-6 leaves fresh basil, chopped
3 cloves garlic, minced
1 t. salt
1 t. black pepper
1/2 t. cayenne pepper
1/2 t. paprika
1/2 t. chili powder
1 T. parsley
2 T. Worcestershire sauce
2 T. Tabasco sauce
2 c. water
3 pork sausages, cooked and sliced
1/2 lb shrimp, peeled and cleaned
2 c. cooked white rice
Combine all vegetables in crock pot. Add liquid ingredients. Sprinkle with all seasonings. Place chicken pieces on top of mixture next. Cook on low for 4-6 hours. Add shrimp, sausage and cooked white rice and cook for an additional 1 hour on low.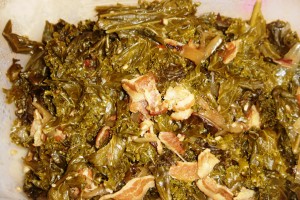 Living in the South, I have learned that I can no longer assume that my vegetables are vegetarian. It seems like every restaurant I go to  uses delicious savory meats like bacon, sausage or ham to season our side dishes. I always like bacon on a side salad without any complaints, so I'm definitely open to experimenting. Plus– what a great way to get my boys to eat new vegetables! Adding a little bit of a familiar flavor to a foreign one definitely eases the introduction.
This week, I decided to try kale. I've always heard the redeeming qualities of this blueish-greenish rough leafy vegetable, but had never tried to cook it. The simplest instruction I could find included removing the hard center vein and then slicing, sauteing and serving with garlic and olive oil. That seemed easy enough, but I really wanted to see how I could prepare kale in the crock pot instead.
I've heard about soups containing kale, usually with a white bean and some sort of sausage or just a vegetable medley that included kale instead of something like cabbage. But in this beautiful summer heat, I didn't really want to sit down to a hot bowl of broth.
So, I decided to prepare a soft, tasty side dish with my kale, using the Southern inspiration of including meat in my vegetables. I found out that the steam of the crock pot really breaks down the toughness of the kale without removing any of its natural sweetness. While I intended for this dish to be an accompaniment, I actually think it would be great served like a stir fry over rice or noodles without the need for any additional sauce. Enjoy!
1 large bunch of kale. hard center vein removed, leaves sliced into strips
6 strips of bacon, cooked and crumbled
1/4 c. water
1/2 medium onion, sliced thin Read more