Crock Pot Vegetarian Chicken Chili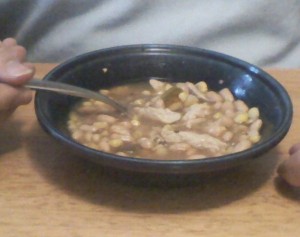 Did you catch the title?? Does it sound like a contradiction to say "vegetarian" and then "chicken" in the same meal?! It is not. Thanks to modern day culinary creativity, I can make chicken chili for friends that don't want to eat meat.  This is a pretty easy recipe, but I like that it is a crowd pleaser and still meets certain dietary limitations.
Give this chicken chili a try next time you host a friend that is vegetarian or keeps kosher– they will be so happy that you honored their wishes and still served tasty dishes. (yes, that rhyme was intentional.) And don't think this meal is for light weights—  you can serve this at your next party or sporting event and even the men will be raving about your soup– it's spicy, it's filling and everyone will enjoy!
4 c. vegetarian chicken broth
2 cans great northern beans (do not drain)
1 4 oz can diced green chiles (do not drain)
1/2 green pepper, chopped
1/2 medium onion, chopped
2 c. frozen corn
1 T. parsley
1 T. chili powder
1 t. oregano
1/2 t. cumin
1/2 t. paprika
1/2 t. cayenne pepper
1/2 t. black pepper
1 package Morning Star Farms chicken strips**
Put everything in the crock pot except for the chicken strips. Stir together and cook on low for 4-5 hours. Add the frozen chicken strips and cook for one hour more. You can divide the chicken strips up into small pieces once they are cooked through.
**IF YOU'D LIKE THIS TO BE AN ACTUAL MEAT DISH, BUY PRE-COOKED FRESH OR FROZEN CHICKEN STRIPS  AND FOLLOW THE DIRECTIONS THE EXACT SAME.