Crock Pot Loaded Potato Casserole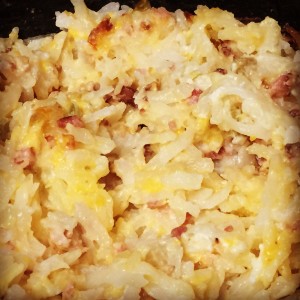 Who doesn't love a baked potato with all the toppings?! The problem is, I rarely ever keep baking-sized potatoes in the pantry.  (Although has anyone ever used one of these?!) So this recipe is a great way to fulfill that salty and savory craving with items that you can keep on hand. I used refrigerated shredded potatoes, but you can totally make this dish using the frozen kind instead. The quantity and directions stay the same.
My mother-in-law used to make a potato casserole like this and my recipe is totally inspired by her dish. I remember lots of festive gatherings, summer BBQs, and family dinners with second and third helpings of potato casserole. Some nights, I'd rather just have this as my main dish with a side salad… and save room for dessert! Family recipes are the best– because they satisfy your soul and not just your appetite.
Crock Pot Potato Casserole
Serves 8-12
2 lb. shredded potatoes (just wanted to share… I use THESE)
8 0z. sour cream
2 cups shredded cheddar cheese
1/2 onion, chopped
1 10.5 oz can Cream of Celery Soup
1 cup bacon crumbles
Put all ingredients in crock pot and give it a stir until everything is combined. Cook on low for 4 hours.