I've always been a fan of our grill… really, for two reasons. 1. In the summertime, it's a great way to eat healthy and not heat up the kitchen and 2. when we grill, my husband is usually the one cooking!  Since it's been such a mild winter, we've been taking advantage of the unseasonably warm evenings and grilling our food. But since local produce isn't as plentiful in January, I've been getting creative.
So I've been grilling sweet potatoes. Sure, they get their glory at Thanksgiving when they are smothered and covered by marshmallows or syrup or sugar. Sometimes they even make a repeat performance at Christmas or Easter or Passover, but my new absolute favorite way to eat a sweet pot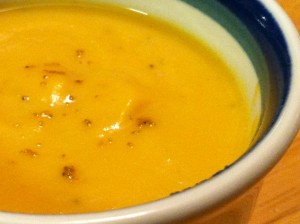 ato is by grilling it to perfection.
It's so easy, let me tell you the few easy steps… Wash your sweet potatoes. Poke fork holes all over. Wrap sweet potato in aluminum foil. Grill on med-high heat for one hour, turning the sweet potato halfway through. That's it! When the sweet vibrant goodness is done, it will be easy to squeeze the flesh with tongs. Please be cautious though, sometimes the sweet juices will run out of the foil (and I don't want you to get burned).
So a couple nights ago, I grilled five sweet potatoes. I figured we would eat the leftovers so I made a couple extra. And these extra potatoes became the inspiration for tonight's new recipe! With a few ingredients I already had on hand, I was able to literally "whip together" this amazing meal. This crock pot sweet potato soup is thick and hearty and even though soup might not be fresh and exciting for a winter meal, adding in the flavor from the grill really makes a difference. 
2 medium sweet potatoes, already cooked in grill or oven, cooled and then skinned
3 c. chicken broth
1/2 c. caramelized onions
1/4 t. nutmeg
1/4 t. chili powder
1/4 t. celery seed
1/4 t. curry powder
1 clove garlic, minced
1/2 c. heavy cream
Put all ingredients (except heavy cream) in crock pot, stir and then cook on low for 3-4 hours. Use a hand blender and puree mixture until smooth, then stir in heavy cream. Serve hot with a tiny sprinkle of nutmeg or curry on top.
I'm totally enjoying soups this week and I hope you are getting a chance to enjoy some of these recipes too. I love it when I can make an entire meal in ONE pot and feed the whole family. This soup is a variation on my crock pot potato soup recipe (search for it in the recipe index) and adds in the unique sweetness of parsnips and carrots and sweet onions.
Even though it's almost spring, we still need to survive on the rest of winter's vegetables. If you can already grow things in your garden or windowsill, try adding fresh herbs like flat parsley, dill or chives to your soup when it is done cooking. I think you'll find the promise of spring in the soothing warmth of this chowder. Enjoy!
4 medium potatoes, peeled and diced
3 medium parsnips, peeled and diced
3 medium carrots, peeled and diced
2 stalks celery, diced
2 cloves garlic, minced
1/2 medium sweet onion, chopped
3 c. water
1 t. salt
1/2 t. black pepper
1 t. celery seed
1 c. milk
1 T. corn starch
1 can cream-style corn
Put all vegetables and seasonings in crock pot, cover with water. Cook on high for 4 hours. When vegetables are all soft, dissolve corn starch in milk and then add to crock pot. Add cream-style corn and mix ingredients together. Cook on low one more hour. Use an immersion blender and puree the soup until thick and creamy. Serve with fresh parsley, dill or chives on top.
At this time of year, everyone is trying to hang on to at least a shred of the New Year's resolution that they made only a couple weeks ago. This recipe is a great one to help— you can eat healthier and save money by making French dip. You don't need a lot of meat on your sandwiches and you get to savor so much of the flavor by using the cooking liquid as the au jus. Plus, you don't need to add extra condiments, cheese, oil or any other typical sandwich toppings that just add fat and calories anyway.  (You can also make a great salad and top it with the leftover meat as a second meal!)
This meal was inspired by my friend T.D.H. who made these sandwiches for her family last week. I altered her recipe a little, but I appreciated her recommendation. Thank you! I hope you enjoy these crock pot French dip sandwiches so much that you share it with your friends, too.   :)
1.5-2 lb. London Broil, trimmed
32 oz. beef stock (I use low-sodium)
1/4 c. soy sauce (again, low-sodium)
1/2 medium yellow onion, quartered
3 cloves garlic, smashed
1 t. celery seed
1/2 t. thyme
1/2 t. rosemary
2 bay leaves, whole
1 t. whole black peppercorns
Serve on 4-6 crusty french rolls
Heat a flat skillet with 1 T. olive oil in it. Sear your London Broil on both sides, but do not cook meat through. Put all other ingredients in the crock pot and then delicately place the meat in. Cook on high for 3 hours. Remove meat, slice across the grain, then put the meat back in the crock pot for an additional hour. Serve meat on warmed, crusty french rolls. Remove bay leaves from the crock pot and discard. Either drain the remaining liquid through a cheese cloth– or be lazy like me… I used a ladle and removed 1/2 c. of the liquid for each sandwich and served it in a ramekin. So what if some rosemary or thyme comes along for the ride, it just adds more flavor!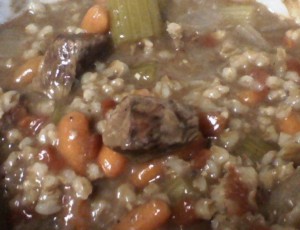 Here's your history lesson for today, folks… let's learn about barley. If you are a "meat and potatoes" kind of person, barley is a great item to add to your grocery list. Barley rations go all the way back to biblical times, I think, it's healthy, hearty and inexpensive;  is one of the world's top harvested grains; and here's a fun one– one of its main purposes is for producing beer and malted beverages.
Now that you've done your studies, let's prepare your eats! This stew is meaty and thick and satisfies the hungriest belly. It is a meal in itself, but I prefer a small bowl of it with a side salad— and a beer, so I can be consuming barley in multiple forms.

This is a nice variation to the common beef stew.
On a nice fall day like today, your house will be filled with the warm smell of meat, vegetables and an easy dinner. Enjoy!
1 lb. beef stew meat chunks
1 c. baby carrots
4 stalks of celery, cut into chunks Read more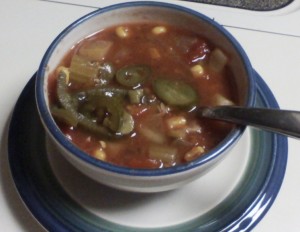 I am fortunate to have a husband that loves my cooking and loves to eat.  He tries everything I make and is very agreeable about most of it. But today, I had the privilege of watching my husband cook his first crock pot meal. And it turned out great!
Today's soup includes a lot of produce, but unlike my normal vegetarian vegetable soup which has small bits of lots of vegetables, my hubby's recipe includes chunkier cuts of vegetables and not as much variety. The real kicker of this soup is the topping– add a few jalapeno peppers and you've got a treat to eat without any meat!

I definitely encourage you to Read more
Happy birthday to my husband. He is an amazing man, father, lover and friend. And he loves my cooking.  So for tonight, I wanted to make him a nice dinner. But of course, I still have the kids to take care of today, a house to clean before company and a dog that is begging to go out, so my options for fine dining were a little limited. I decided to start a crock pot of food at lunchtime instead of at breakfast— our dinner will be done right as the kids are going to bed… so we can eat a meal as adults and maybe even partake in a glass of wine.
I had totally planned on doing chicken fajitas for dinner tonight or some sort of hearty "man" food, but my hubby went out with his coworkers for lunch at a Mexican restaurant, so I needed to reroute my dinner plans. Since I already had the chicken, I decided to make chicken cacciatore (pronounced catch-ahh-toe-ree) instead. It's robust and filling, but an easy one pot meal.
Cacciatore is usually served over a thin pasta like angel hair, but it can also be served over rice, if you prefer. I like to top mine with grated Parmesan cheese instead of putting the cheese in when it's cooking. You can also add other vegetables if you'd like– many cacciatore recipes add mushrooms and/or fresh basil leaves.
You don't need a celebration to dine on this great chicken dish. Enjoy!
4 frozen boneless, skinless chicken breasts
1 small onion, sliced thin
1 green pepper, sliced thin
1/2 red pepper, sliced thin
1/2 yellow pepper, sliced thin
1 medium zucchini, sliced thin
4 cloves garlic, minced
1 28 oz. can petite diced tomatoes
1 c. spaghetti sauce
1 T. parsley flakes
1 t. basil flakes
1 t. oregano flakes
1/2 t. celery seed
1/2 t. black pepper
1/2 t. salt
Combine vegetables in crock pot, top with all seasonings and stir together. Pour in tomatoes and sauce and stir again. Place frozen chicken breasts on top of mixture. Cook on high for 4-6 hours.  Serve over thin pasta or rice.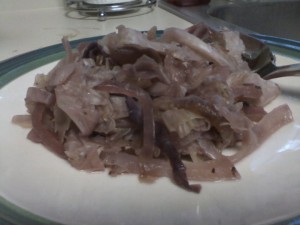 My family has requested perogies for dinner tonight and as much as I'd like to try to make them homemade, that just isn't going to happen. So I figured if our main dish at dinner is from a frozen blue box, then our side dishes should be fresh and flavorful.
Perogies are an amazing Polish entree that can have a variety of fillings inside. I remember a booth at the West Side Market in Cleveland, Ohio, that offered dozens of options– meat-filled, cheese, fruit, dessert, the list just kept on going. I'm making a sauteed cabbage and onion recipe in the crock pot today and the taste will really go nicely with my smooth, simple potato and noodle pockets. But someday, I'd love to go back to that booth in Cleveland and stock up on some crazy combinations instead. 
This side dish would go great with almost any meat. The salt helps the cabbage break down and the wine and sugar really add to the natural sweetness of the onion. If you'd like a different color for presentation, try swapping julienned carrots for the red cabbage instead. I like the red cabbage because it gives the onions a really nice translucent purple color. Enjoy!
1 small head cabbage, sliced thin
1 medium sweet onion, sliced thin
1 c. shredded red cabbage
1/2 c. white wine
1 t. salt
1 t. celery seed
1 T. sugar
Put everything in the crock pot and stir together. Cook on low for 4 hours.
So after the amazing stroganoff last week, somehow I still wanted to make more beef. (I think we had BBQ chicken one too many times over the holiday weekend.)  So even though it is summer, I thought some hearty beef stew would satisfy my craving for red meat.  The nice part about this meal and the hot weather is that a small serving is enough to satisfy and you can use local produce to really enrich the flavors of the stew. I am adding some extra vegetables to my stew that are in season, ripe and fresh right now. Check out your local farmer's market and see what vegetables look good to you. Enjoy!
1 lb. beef, cut into stew meat
1 c. baby carrots Read more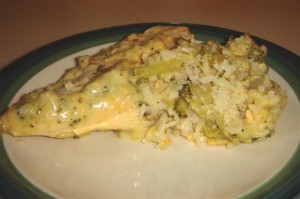 This recipe gives me crazy flashbacks! My mom use to make this when I was a kid. She made it in the oven, but it was almost the same recipe— broccoli, chicken, rice and some sauce that had a little bit of an orange color but didn't taste at all like oranges. It took me a few more years of life to find out that the color was from the curry powder. I think Crayola should add the crayon color "curry".  
It's hard sometimes for my taste buds to explain the flavors to my head, but I think I've figured out most of my mom's recipe.  I've added the crock pot. Maybe the celery seed, too, but I think it adds a nice flavor. I start with frozen chicken breasts because I never think ahead to thaw it out and I don't like when I defrost it in the microwave and then the edges get a little cooked and weird. Using frozen chicken breasts works just fine, it will defrost and cook and fall apart into the creamy goodness of the sauce and the starch of the rice and absorb all of the spices by the time it's done.
This home cooking will serve a table full of happy tummies and happy hearts. Enjoy!
1 lb. frozen broccoli cuts
1 c. uncooked white rice
3-4 boneless, skinless chicken breasts
1 can cream of chicken soup
1 t. Worchestershire sauce
1 t. fresh lemon juice
2 t. curry powder
1/2  t. celery seed
1/2 t. ground black pepper
2 T. melted butter
1 c. shredded cheddar cheese
1/2 c. Parmesan cheese sprinkles
1/2 c. milk
1/2 c. mayonnaise
Put frozen broccoli in crock pot first. Sprinkle with rice. Lay chicken breasts on top. Mix remaining ingredients in a separate bowl and then pour on top of chicken. Cook on high for 4 hours. Prior to serving, shred chicken and mix everything together.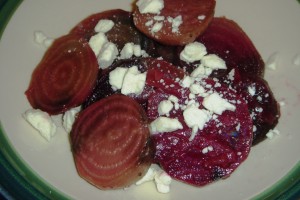 In the midst of summer heat, I love to use my crock pot to cook the season's ripe vegetables. My kitchen stays cool and my taste buds get to dance.  This week, I had friends bring me fresh beets from their community CSA. I love roasting beets in a little bit of olive oil, salt and pepper, so I thought this would be a fun challenge for the crock pot.
When you roast beets in the oven, there is the chance of overcooking, resulting in a dried, wrinkled sad result for this moist and vibrant treat. With the locked-in moisture of the crock pot, I really think that beets get the chance to both marinate and cook to perfection.
Please note— this recipe calls for FRESH produce. This recipe is not intended for canned beets.  When you are preparing fresh beets, be cautious that the juice doesn't dye your hands, your counter or your cutting board. But you will benefit greatly by doing the preparation, because the taste and texture of using fresh produce for this recipe is so much better than you could ever replicate with a canned product.
6 large fresh beets, greens removed and skins peeled, sliced
3-4 fresh white radishes, greens removed and skins peeled, then sliced Read more