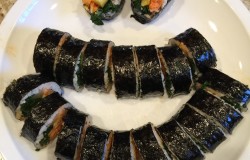 Posted on by Valerie in Dinner, Kitchen Renovation.

Let's break this week's renovation update down day by day. I updated my four-week menu plan to carry us through the rest of the project, the installations are still on schedule, and it's remarkably nice weather still outside. I want you to understand that while my posts may make this whole process appear to be coated […]

Continue Reading... No Comments.
Posted on by Valerie in Recipes, Side dishes.

I'm too excited about tomorrow's dinner to wait until morning to post this. It's funny– I have been posting all these recipes that are hearty and healthy, but mostly vegetable-based. Not this one! For all you meat lovers, this is simple, sassy and super! (Thank you to my friend BBM for introducing me to this […]

Continue Reading... 1 Comment.