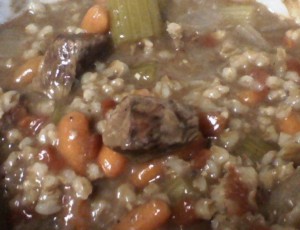 Here's your history lesson for today, folks… let's learn about barley. If you are a "meat and potatoes" kind of person, barley is a great item to add to your grocery list. Barley rations go all the way back to biblical times, I think, it's healthy, hearty and inexpensive;  is one of the world's top harvested grains; and here's a fun one– one of its main purposes is for producing beer and malted beverages.
Now that you've done your studies, let's prepare your eats! This stew is meaty and thick and satisfies the hungriest belly. It is a meal in itself, but I prefer a small bowl of it with a side salad— and a beer, so I can be consuming barley in multiple forms.

This is a nice variation to the common beef stew.
On a nice fall day like today, your house will be filled with the warm smell of meat, vegetables and an easy dinner. Enjoy!
1 lb. beef stew meat chunks
1 c. baby carrots
4 stalks of celery, cut into chunks Read more
I opened up my weekly CSA delivery and was so excited to see the ripe, fragrant produce. One thing in particular caught my attention– OKRA. The first thing I thought of was some hot, spicy gumbo.  I think half of what I unpacked is going to end up in the gumbo— okra, tomatoes, basil, corn, green pepper… now if only I stopped at a farm for some chicken and then headed to the coast for some shrimp, but I guess I'll have to buy those at the grocery store.
Gumbo is a perfect recipe for the crock pot because it needs to simmer for a long time to fuse all those flavors together. Cut your veggies into small pieces so you can have a bit of each morsel in your mouth! This soup would also freeze really well, so make the gumbo for dinner this week and then enjoy all these fresh treats again later this fall when they aren't so available.
This soup can also be made vegetarian if you leave out the chicken, sausage and shrimp. I'd amp up the amount of veggies though and maybe get a little more okra, so that this tastes more robust and unique than just vegetarian vegetable soup.  You can also use Morningstar Farms chicken strips (fake meat) if you'd like to add some protein.  Enjoy!
2 boneless, skinless chicken breast, cut into 1/2 inch cubes
1/2 lb. okra, sliced
1 c. of corn (cut off of fresh ears)
1/2 sweet onion, chopped
1 green pepper, seeded and chopped
3-4 ripe, sweet tomatoes, seeded and chopped
3 carrots, peeled and sliced thin
2 stalks celery, sliced
4-6 leaves fresh basil, chopped
3 cloves garlic, minced
1 t. salt
1 t. black pepper
1/2 t. cayenne pepper
1/2 t. paprika
1/2 t. chili powder
1 T. parsley
2 T. Worcestershire sauce
2 T. Tabasco sauce
2 c. water
3 pork sausages, cooked and sliced
1/2 lb shrimp, peeled and cleaned
2 c. cooked white rice
Combine all vegetables in crock pot. Add liquid ingredients. Sprinkle with all seasonings. Place chicken pieces on top of mixture next. Cook on low for 4-6 hours. Add shrimp, sausage and cooked white rice and cook for an additional 1 hour on low.
If you are unfamiliar with Cincinnati chili, let me explain to you how this is different from what you might think. This is more like a spaghetti sauce, than a stew. It usually has some combination of allspice, cinnamon and sometimes cocoa powder in it. There are no beans cooked in this pot and it is not meant to be consumed by itself. It is however, an amazing topper for hot dogs, spaghetti, french fries or even in a tortilla! When you eat this, there are different ways of presenting it– five in fact! Two-way would be spaghetti and chili, three-way adds finely shredded cheddar cheese, four-way diced onions and five-way would be all of the above plus some dark red kidney beans. Crazy enough– you can also top it with oyster crackers and hot sauce, if you so choose.
Skyline and Gold Star are probably the most common brands of Cincinnati Chili and you can get it at the fast-food restaurants or in cans at the grocery store.  But since I don't live in the Great Lakes area anymore, I make my own crock pot Cincinnati chili using my best friend's mom's recipe. Yes, it's three degrees of separation, but it's still so good! So to "K" and "R"— thank you for sharing your recipe with me, it's better than the original!!
1.5 lbs. ground beef
1 29 oz. can tomato sauce
1 14.5 oz can peeled whole tomatoes
1 onion, diced
1/2 t. allspice
1/2 t. cinnamon Read more
"To make a good salad is to be a brilliant diplomatist —
the problem is entirely the same in both cases.
To know exactly how much oil one must put with one's vinegar."
Oscar Wilde 1856-1900, British Author
Dinner was not a crock last night. We grilled out brats and had cold side dishes, drank chilled wine and enjoyed time with friends.  Sometimes I really enjoy the contrast of a hot main dish and the refreshment of cold accompaniments. I
made a vinaigrette salad last night that everyone seemed to really enjoy, so I thought I'd share the recipe with you too.  Tomorrow I'll use the crock pot, but this was a nice change. 
Making a vinaigrette salad takes only a few ingredients, but just the right balance (as Oscar Wilde said in the quote listed above). You want chemistry and harmony and simplicity in the perfect mix. Depending on the potency of your ingredients, you may want to divide the dressing measurements in half and add a bit at a time until you get a good balance. Remember that when the vegetables marinate, they will absorb some oil and vinegar and release some water, so you might want to drain the salad a little bit before serving.  Enjoy!
1 English cucumber, peeled and cut into chunks
2 c. cherry or grape tomatoes, cut in half
1/2 medium sweet onion, cut into chunks
1 15 oz. can garbanzo beans, drained and rinsed
1 15 oz. can green beans, drained and rinsed
3 T. fresh parsley, chopped
1/4 c. extra light olive oil
3 T. red wine vinegar
1/2 t. salt
1 t. coarsely ground pepper
Mix all vegetable together, then drizzle with oil, vinegar and seasonings. Toss salad together and then add parsley and mix one more time. Refrigerate at least an hour and then drain, if needed, before serving.
In the Pixar movie by this name, the character Linguini says "Ratatouille. It's like a stew, right? Why do they call it that? If you're gonna name a food, you should give it a name that sounds delicious. Ratatouille doesn't sound delicious. It sounds like "rat" and "patootie." Rat-patootie, which does not sound delicious. " But with Remy's help, Linguini learned to cook, to enjoy it and to share great delicious dishes to others.
In our house, this movie is a favorite because it also teaches lots of great lessons. For example: we shouldn't judge others based on their families or where they came from, you should pursue your interests with passion and dedication, you shouldn't steal from others, in order to have great success we all need to work together and there will always be people to criticize, but even more people we can make happy.
This recipe is easy to make, maybe even for a movie night with your friends or family.  Enjoy and remember "anyone can cook!"
1 medium eggplant, peeled and cubed
2-3 zucchini, sliced ½ inch thick
Read more
There used to be this great Greek restaurant that I frequented that served lentil soup in a styrofoam cup. It was always hot and fresh and the lentils were soft without being mushy. I would frame my entire meal around saving room and money for the soup.  This recipe mirrors the flavors and warmth of the soup but without a disposable cup. Unlike my vegetarian vegetable soup which is savory and chunky, this lentil soup is hearty and robust with even more amazing health benefits. Lentils are high in protein, iron, amino acids and when you add in the lycopine in the tomatoes and then all the vitamins, folic acid and antioxidants in the spinach… this soup is like a power boost for your whole system. Oh yeah, and Read more