My nana didn't make cookies. She didn't make tea sandwiches. She didn't make cute food like fruit, desserts, hors d'oeuvres, cordials or ganache. But she made amazing, hearty dishes in mass quantity like spaghetti and brisket and homemade potato salad. But anyone in my family could tell you that the one dish that she was known for was her barbequed salami. It is spicy and soft and just the right amount of sauce to smother a plain hamburger bun and make it melt. 
Nana always bought the big tubes of kosher salami and hand sliced in and then quartered it. I don't know how she made it so thin. I suggest using the tubes of Hebrew National salami, but here's an easier way to prepare it— cut it in half longways and then in half longways again (it will almost look like four hot dogs at this point). Then, run it through your food processor to slice it really thin. Or, you can do it by hand, like Nana, if you have a sharp knife and a lot of patience.
Kudos to Nana for always serving this amazing feast to our family, for getting us all together and giving us memories to last forever. This will always be a favorite meal for me and I can't wait to share it with all of you, too. Make it for your next picnic, family gathering or game night. Barbequed salami is best served with a pickle, some wavy potato chips to scoop up anything that falls off the bun and a huge stack of napkins.  Enjoy!
2 lbs salami, sliced and quartered
2 12 oz. bottles Heinz chili sauce
1 c. ketchup
1 onion, quartered and sliced 
1 green pepper, minced Read more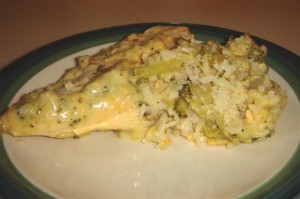 This recipe gives me crazy flashbacks! My mom use to make this when I was a kid. She made it in the oven, but it was almost the same recipe— broccoli, chicken, rice and some sauce that had a little bit of an orange color but didn't taste at all like oranges. It took me a few more years of life to find out that the color was from the curry powder. I think Crayola should add the crayon color "curry".  
It's hard sometimes for my taste buds to explain the flavors to my head, but I think I've figured out most of my mom's recipe.  I've added the crock pot. Maybe the celery seed, too, but I think it adds a nice flavor. I start with frozen chicken breasts because I never think ahead to thaw it out and I don't like when I defrost it in the microwave and then the edges get a little cooked and weird. Using frozen chicken breasts works just fine, it will defrost and cook and fall apart into the creamy goodness of the sauce and the starch of the rice and absorb all of the spices by the time it's done.
This home cooking will serve a table full of happy tummies and happy hearts. Enjoy!
1 lb. frozen broccoli cuts
1 c. uncooked white rice
3-4 boneless, skinless chicken breasts
1 can cream of chicken soup
1 t. Worchestershire sauce
1 t. fresh lemon juice
2 t. curry powder
1/2  t. celery seed
1/2 t. ground black pepper
2 T. melted butter
1 c. shredded cheddar cheese
1/2 c. Parmesan cheese sprinkles
1/2 c. milk
1/2 c. mayonnaise
Put frozen broccoli in crock pot first. Sprinkle with rice. Lay chicken breasts on top. Mix remaining ingredients in a separate bowl and then pour on top of chicken. Cook on high for 4 hours. Prior to serving, shred chicken and mix everything together.
Stuffed peppers are a delicious union of textures and are meant for slow cooking. But sometimes, the prep work of cutting and chopping and mixing and stuffing is just too much.  Consider this my recipe for "inside out stuffed peppers". I've figured out a way to get that same great result with even less time. It might not have the same presentation as beautifully stuffed bells, but if you are looking for ease and a great meal, this is a good sloppy way to serve a favorite dish. Enjoy!
1 lb. ground turkey or chicken
2 T. dried parsley
1/2 c. uncooked rice
1 t. salt
1/2 t. ground pepper
1/2 t. red pepper flakes Read more
Here's your mission if you choose to accept it: make dinner for four adults and two kids when you are staying at a friends house, you found one pound of ground turkey in the freezer and there is a pantry of assorted cans. And…. GO!
While visiting friends this week, I figured it was only appropriate to help with meals since they are at work all day. I know there is a crock pot on staff in the kitchen, so I accepted this mission without hesitation. Crock pot cooking is just the easiest way to make a crowd-pleasing dish without making a huge mess.
With our mix of adults and kids, I figured crock pot sloppy joes would be great. But with only one pound of meat, I knew that I needed to pump up the dish with some added ingredients. This recipe worked out great because it kept the true flavor of sloppy joes, but included some extra protein. Try this out next time you have to feed friends or family members or are looking for a no-fuss take on an old-time favorite. Enjoy!
1 lb. ground turkey
1/2 medium onion, diced (or 3 T. dried minced onion)
1 green pepper, seeded and diced
1 14 oz. can of black beans, drained and rinsed Read more