Crock Pot Stuffing Balls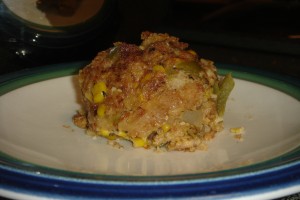 Stuffing is an under-appreciated side dish. It completely defines a Thanksgiving dinner and can sometimes be found at kitschy homecooking restaurants, but there is no reason to leave it alone for the rest of the year. Plus, it's a great way to use leftover or stale bread. The more variety you use in your bread selection will equal a total change in the taste of the end result.
In my fridge right now, I have half a loaf of wheat bread (very dense and yeast-smelling) and half a loaf of what was labeled a "tomato bread" (tastes like Italian bread with a swirl of seasoned tomato paste in it). Here is how to prep your bread for stuffing: cut into slices and then into bite-sized cubes. For example, I would cut a normal piece of wheat bread four times each way = 16 smaller pieces. Then, lay cubes out in one layer on a cookie sheet and cook for about 10-15 minutes at 350 degrees, just until the bread toasts.
Instead of just pouring the stuffing into a pan, I love the idea of hand rolling the stuffing into balls. It cooks into nice individual servings and leaves lots of surface area to crisp. These balls also freeze really well, so make a full recipe and then save what you don't consume.  Enjoy!
6 cups homemade stuffing cubes
1/2 medium onion, chopped
1/2 green pepper, chopped
2 eggs, beaten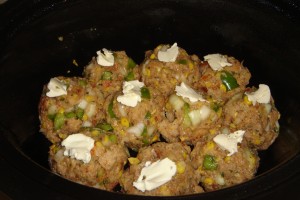 1/4 c. water
1 16 oz. can cream-style corn
1 T. parsley
1 t. salt
1 t. black pepper
1 t. celery seed
2-3 cloves garlic, minced
10 little pads of butter or margarine
In a bowl, mix together all ingredients, except butter or margarine. After combined, mixture should be moist, but not dripping wet. Form 10 balls, using your hands and mush it together so that it can stand on it's own. Coat oval-shaped crock pot with non-stick spray. Place stuffing balls side by side in crock pot. Place one little pad of butter or margarine on top of each stuffing ball. Cook on low for 3 hours.
(The original inspiration from this dish came from crock pot maven Mable Hoffman's Crockery Cookery Cookbook. No offense, but her recipe was bland and suggested using packaged stuffing mix; my adaptation takes it up a notch and makes it flavorful and heartier.)