Crock Pot Hot and Sour soup
I had three reasons for creating crock pot hot and sour soup this week…
1. Chinese New Year was on Monday and I forgot to order takeout.
2.  I've been trying to do at least one meatless meal each week.
3. Hot and sour soup is amazing for clearing up a stuffy nose and a winter cold!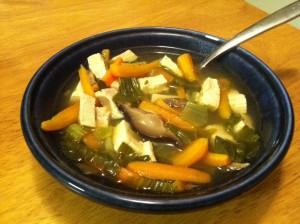 As with all my soups, I like more "stuff" than "broth" so my hot and sour soup is more crowded that what you get at a Chinese restaurant, but I think you'll like this as a full meal and not just an appetizer. Plus, it can be made completely vegetarian and I think it's gluten-free, so this is a great dish if you are cooking for people with food limitations.
If you didn't get a chance to celebrate the Chinese New Year either, then whip up a quick batch of this hot and sour soup to start the year out like a fire-breathing dragon! (but you don't need to make it that spicy if you don't want!)
3 oz.  shiitake mushrooms (I bought a 6 oz. jar of mushrooms in liquid and used half)
2 cups baby carrots, quartered
3 medium green onions, sliced
3 cups bok choy, chopped
4 c. low-sodium chicken broth
1/3 c. rice vinegar
1 T. soy sauce
1 t. ground ginger
1 t. sesame oil
2 t. sriracha sauce (Asian red pepper sauce, also sometimes called rooster sauce)
1 package extra-firm tofu, drained and cut into half-inch cubes
Put all ingredients EXCEPT TOFU into crock pot and stir into mixed. Cook on high for 3-4 hours (or until carrots are soft enough) then add cubed tofu and cook for one more hour.