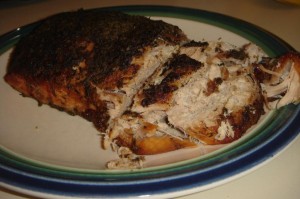 Ok fans, this one is really easy. It might surprise you to think about doing a roast in your crock pot, but again– anything that can be cooked in the oven, can be cooked in the crock pot. I started this roast while I drank my breakfast coffee and it was done by lunchtime. Dinner tonight is going to be a breeze. (I should note that my crockpot cooks quickly, even on low. You will want to use a meat thermometer to determine when your roast is cooked through. Pork is done when the internal temperature of the meat reached 160 degrees).
I like that the dry rub on this roast is simple and you can vary up the flavor and switch out other seasonings, if you prefer. I think that the brown sugar really complements the flavor of the pork, but if you'd rather cut down on the sweetness or calories, you can use other seasonings and leave out some of the brown sugar.
Enjoy this roast from your crockpot and savor the flavors. Add a couple side dishes and you'll have a complete meal for dinner tonight or even entertaining. Enjoy!
2 lb. pork loin rib end roast
1 t. thyme
1 t. parsley
1 t. garlic powder
1 t. cumin
1/2 t. black pepper
1/2 t. salt
3 T. brown sugar
1/2 c. water
Rinse roast and pat dry, then place in crock pot on metal trivet (this lets the juices run without letting the meat sit in the juice). Mix all seasonings and brown sugar in a separate bowl and place mix on the meat, patting down with your fingers until mixture is evenly distributed. Add 1/2 c. water to crock pot, but do not pour it on top of meat. Cook on low for 4-6 hours.
This recipe is the direct result of two completely different factors=
1. we've been getting great fall apples and need to use some up, especially the ones with bruises  
2. it's almost the holiday season and I'm trying to find lower calories, but equally delicious dishes to serve up as dessert
This recipe is best served warm with a scoop of either vanilla ice cream or just a dollop of whipped cream. It tastes like the inside of a warm apple pie, but barely has more calories that a cup of applesauce. It's soothing and comforting to the whole body and there is no reason to save this dish for dessert— try it for breakfast with your oatmeal, as a side to lunch or dinner or as a snack at any point of the day!
Unlike applesauce, this dish should be made with large chunks of apples. As they cook down, the apples might fall apart a little bit, but that will help the juices flow. Do not overcook this recipe or you will wind up with apple butter.
8 medium apples, peeled and cored and cut into large chunks
2 T. salted butter
1/2 c. brown sugar
1 t. cinnamon
pinch of nutmeg
1/2 t. black pepper
1 T. vanilla extract
1/4 c. cold water
1 t. corn starch
Put apples in the crock pot first, then sprinkle with brown sugar, cinnamon, nutmeg, black pepper and drizzle with vanilla. Put butter on top of mixture, it will melt as it heats. Cook on low for 4 hours or until apples are softened, but still firm. Dissolve corn starch in water and then pour over apple mixture and stir. Turn crock pot off and let sauce thicken until it gets syrupy and easily coats the apple chunks.  Serve warm. 
(Makes 8 servings)
The only thing better than a local farmer's market is a neighbor with an amazing garden and fruit trees. I had the pleasure of pillaging the peach trees yesterday and came home with about two dozen little peaches, ripe and ready to be enjoyed. They were sweet and juicy, broke easily off the pit and cooked down perfectly into my peach cobbler.  I'm not sure what makes me happier– the warm cobbler with it's sticky sweetness stuck to my spoon… or the fact that I can walk next door, fill my basket and make another pot full tomorrow.
I like the keep the flavor of my cobbler simple. The peaches are already so sweet, I really just want to be able to cook them down a little. And I like the oatmeal topping, it makes me think of a cookie up on top.  This recipe definitely craves a big scoop of vanilla ice cream, but it's also really good with some vanilla yogurt or just a little half and half… or nothing at all. It's really good that way, too. Enjoy!
(You'll see in the recipe directions that I use the crock pot in an unconventional way. I cook the dessert on low, half uncovered, for the last hour. This helps the peach portion thicken up and the crumbly top crisp a little bit.)
4 lbs peaches, peeled, pitted and sliced
1/4 c. brown sugar, not packed Read more
My nana didn't make cookies. She didn't make tea sandwiches. She didn't make cute food like fruit, desserts, hors d'oeuvres, cordials or ganache. But she made amazing, hearty dishes in mass quantity like spaghetti and brisket and homemade potato salad. But anyone in my family could tell you that the one dish that she was known for was her barbequed salami. It is spicy and soft and just the right amount of sauce to smother a plain hamburger bun and make it melt. 
Nana always bought the big tubes of kosher salami and hand sliced in and then quartered it. I don't know how she made it so thin. I suggest using the tubes of Hebrew National salami, but here's an easier way to prepare it— cut it in half longways and then in half longways again (it will almost look like four hot dogs at this point). Then, run it through your food processor to slice it really thin. Or, you can do it by hand, like Nana, if you have a sharp knife and a lot of patience.
Kudos to Nana for always serving this amazing feast to our family, for getting us all together and giving us memories to last forever. This will always be a favorite meal for me and I can't wait to share it with all of you, too. Make it for your next picnic, family gathering or game night. Barbequed salami is best served with a pickle, some wavy potato chips to scoop up anything that falls off the bun and a huge stack of napkins.  Enjoy!
2 lbs salami, sliced and quartered
2 12 oz. bottles Heinz chili sauce
1 c. ketchup
1 onion, quartered and sliced 
1 green pepper, minced Read more
One of my favorite dishes that my grandmother made is cabbage rolls, but honestly– who has time for all the steps?! I have made them before in the crock pot (use the search function to see my recipe) but today's version is even easier. It has almost all the same components, but only takes a cutting board, a knife and a spoon to get everything into the crock pot. 
I really like that this casserole is thick, there isn't much broth left in the pot. I suggest serving it over some mashed potatoes.  It's like a complete meal in one bowl!
1 lb ground turkey, not cooked
1 c. brown rice, not cooked
2 c. spaghetti sauce
1 c. vegetable juice
1/2 head cabbage, chopped fine
1/2 medium onion, chopped
2 T. brown sugar
2 T. apple cider vinegar Read more
 Your crock pot isn't just for cooking main dishes, I'm on a kick cooking desserts too! If you are a fan of baked apples or even just apple sauce, you'll love this take on what I call "apple brown betty". If you look up the meaning, it's still unclear who this "betty" is and why her apples were so brown. Most sources date the dish back to colonial times and confirm that the dessert is truly as American as… well, apple pie. 
The flavor and composition of my apple brown betty is similar to a cobbler, so if you'd like to try this with peaches, berries or any combination of fresh fruit, give it a try and please post a comment and let us all know how it turns out. Enjoy!
6-8 medium apples, peeled, cored and sliced
1/3 cup brown sugar, packed
1 T. vanilla
1 t. cinnamon
1/4 t. nutmeg
For the crumbles– Read more
Let's make a play list for today's recipe to put you in the mood! By the time you sing along to Sweet Home Alabama(Lynyrd Skynyrd), Little Bitty (Alan Jackson) and the beginning of Sweet Caroline (Neil Diamond), you'll have a pot full of home cookin' set for a down-home country feast.  Whether you live in the north, south, east or west, you'll enjoy this soothingly savory dish that goes great with any variety of side dishes. I'll be serving mine with steamed broccoli and maybe some scalloped potatoes. If I can figure out how to do the potatoes in the crock pot, you'll see it posted later this week!
Once your meal is made, add some more songs to your play list so you can dance around and sing when you are doing the dinner dishes later tonight. Enjoy!
1.5-2 lbs pork country ribs
1 cup ketchup
1/4 c. brown sugar
1/2 c. apple juice Read more
Forget dinner– let's skip straight to dessert. What could possibly be better than dumping everything in the crock pot and having your entire house filled with the glorious, sweet, satisfying smell of freshly baked dessert?! Cooking dessert in the crock pot requires a little more attention to detail than the normal dump-and-go meal prep, but I think you'll really like this recipe. In all honesty, it still only took me 6 minutes from start to finish to get everything into the crock pot. Since this is a slow cooking method, you won't dry out or burn the edges of your tasty treat like you might in the regular oven. Plus, it is way better to use the crock pot for a few hours than to heat up the entire house with conventional baking.
This cobbler recipe can also be made using a variety of other fruits. Go for what is in season, grown locally or on sale in the freezer section; I would suggest trying cherries, peaches, apples, mixed berries or maybe Read more
Here's your mission if you choose to accept it: make dinner for four adults and two kids when you are staying at a friends house, you found one pound of ground turkey in the freezer and there is a pantry of assorted cans. And…. GO!
While visiting friends this week, I figured it was only appropriate to help with meals since they are at work all day. I know there is a crock pot on staff in the kitchen, so I accepted this mission without hesitation. Crock pot cooking is just the easiest way to make a crowd-pleasing dish without making a huge mess.
With our mix of adults and kids, I figured crock pot sloppy joes would be great. But with only one pound of meat, I knew that I needed to pump up the dish with some added ingredients. This recipe worked out great because it kept the true flavor of sloppy joes, but included some extra protein. Try this out next time you have to feed friends or family members or are looking for a no-fuss take on an old-time favorite. Enjoy!
1 lb. ground turkey
1/2 medium onion, diced (or 3 T. dried minced onion)
1 green pepper, seeded and diced
1 14 oz. can of black beans, drained and rinsed Read more
We're going to a BBQ at my brother's house this weekend and since the assumption is that I'll bring something from the crockpot, I know I need to come up with something tasty and creative. The catch is that I don't really want to go grocery shopping today. So, I'm diving into the pantry in the hopes that I will surface with a plan and an amazing side dish.  I also want to make this dish over night so that it is ready to go in the morning.  
Baked beans are a very typical BBQ  side dish, but I would like to make a bean dish that isn't brown and smokey or looks like it's was dumped into a bowl and served. Beans are an easily accessible food– even if they look like they were prepared a little different, everyone still usually takes a scoop to eat. This combination is a nice variation because it is more colorful and the light colors are a nice balance for spring. Enjoy!
**NOTE: Assume that each can is about 15 ounces. This recipe works best in a 6-quart pot. Feel free to divide all ingredients in half if you are not cooking for a large gathering of people, a sports team or a small army.**
2 cans black beans, drained and rinsed
2 cans dark red kidney beans, drained and rinsed
2 cans great northern or cannelini beans, drained and rinsed
2 cans sweet corn kernels, drained
8 oz. frozen cut green beans Read more