This is such an easy recipe, I'm almost ashamed to post it. But it made the best spaghetti sauce I've EVER tasted. Honestly, I considered licking the pot. I always try to "amp up" store-bought spaghetti sauce and this is now my favorite way to do it. This might just revolutionize pasta night at your house too. 
I used bone-in pork chops because I think they have great texture and just the right amount of fat. By searing them first, you keep the moistness in the meat, but by prolonging the cooking process and finishing them in the crock pot, the meat becomes so tender, it will literally fall off the bone and you can cut it with a fork. 
The leftover sauce in the crock pot can be used on the meat, the pasta, on garlic bread… or cook a little extra and then freeze the pork-infused sauce for another dinner. Seriously… sometimes I even impress myself.  This sauce is now a new family favorite after just one meal.  Enjoy!
1.5-2 lbs bone-in pork chops
2 T. olive oil
3 cups spaghetti sauce (traditional style)
1 lb box thin spaghetti
Heat oil in flat skillet. Cook pork chops for 4-5 minutes on each side or until brown sear forms. Pour half of the spaghetti sauce into crock pot, put pork chops onto sauce and then cover them with remaining sauce. Cook on high for four hours or until meat is soft enough that it pulls away easily from the bone. Cook pasta according to package directions. Serve meat with pasta and cover both with sauce.
I love lasagna! Anytime you can combine everything into one dish and it hits pretty much every food group, then I'm a happy girl. But oven-baked lasagna takes way too much work… all the boiling and layering and smoothing and baking and spilling, then oven cleaning… I would rather just order lasagna from a nice little Italian restaurant than go through this whole charade.
So after doing a little research, I've figured out that crock pot lasagna is very doable. Not only can you assemble it in the pot, but I am convinced that most of the cooking should take place in the pot, too. This dish is easy to cook, doesn't take more than an afternoon to finish and you can even freeze the leftovers for another night. That is, if there are any leftovers!
I hope you enjoy this take on one of my favorites. Enjoy!
1 12 oz. box of lasagna noodles, uncooked
1 15 oz. container ricotta cheese Read more
Happy birthday to my husband. He is an amazing man, father, lover and friend. And he loves my cooking.  So for tonight, I wanted to make him a nice dinner. But of course, I still have the kids to take care of today, a house to clean before company and a dog that is begging to go out, so my options for fine dining were a little limited. I decided to start a crock pot of food at lunchtime instead of at breakfast— our dinner will be done right as the kids are going to bed… so we can eat a meal as adults and maybe even partake in a glass of wine.
I had totally planned on doing chicken fajitas for dinner tonight or some sort of hearty "man" food, but my hubby went out with his coworkers for lunch at a Mexican restaurant, so I needed to reroute my dinner plans. Since I already had the chicken, I decided to make chicken cacciatore (pronounced catch-ahh-toe-ree) instead. It's robust and filling, but an easy one pot meal.
Cacciatore is usually served over a thin pasta like angel hair, but it can also be served over rice, if you prefer. I like to top mine with grated Parmesan cheese instead of putting the cheese in when it's cooking. You can also add other vegetables if you'd like– many cacciatore recipes add mushrooms and/or fresh basil leaves.
You don't need a celebration to dine on this great chicken dish. Enjoy!
4 frozen boneless, skinless chicken breasts
1 small onion, sliced thin
1 green pepper, sliced thin
1/2 red pepper, sliced thin
1/2 yellow pepper, sliced thin
1 medium zucchini, sliced thin
4 cloves garlic, minced
1 28 oz. can petite diced tomatoes
1 c. spaghetti sauce
1 T. parsley flakes
1 t. basil flakes
1 t. oregano flakes
1/2 t. celery seed
1/2 t. black pepper
1/2 t. salt
Combine vegetables in crock pot, top with all seasonings and stir together. Pour in tomatoes and sauce and stir again. Place frozen chicken breasts on top of mixture. Cook on high for 4-6 hours.  Serve over thin pasta or rice.
One of my favorite dishes that my grandmother made is cabbage rolls, but honestly– who has time for all the steps?! I have made them before in the crock pot (use the search function to see my recipe) but today's version is even easier. It has almost all the same components, but only takes a cutting board, a knife and a spoon to get everything into the crock pot. 
I really like that this casserole is thick, there isn't much broth left in the pot. I suggest serving it over some mashed potatoes.  It's like a complete meal in one bowl!
1 lb ground turkey, not cooked
1 c. brown rice, not cooked
2 c. spaghetti sauce
1 c. vegetable juice
1/2 head cabbage, chopped fine
1/2 medium onion, chopped
2 T. brown sugar
2 T. apple cider vinegar Read more
We love pasta.  Sometimes in a rediculous way. I don't know if that makes me a carb-a-vore or a carb-a-whore, but either way, it's one of my favorite meals to make… and eat. I especially like when the kids eat pasta because I know that the sauce sneaks in lots of great vegetables and nutrients. The problem with an elaborate dish like baked ziti is that it can take a lot more work and I don't have time to do all the steps in time for dinner. So, I've figured out a way to make some of my favorite dishes using my handy dandy crock pot. Time is no longer a nuisance.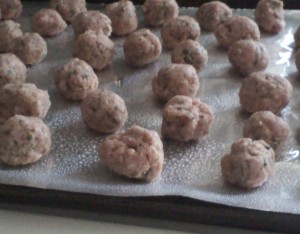 All the parts of this recipe can be made separately and ahead of time, so if it helps you to make the meatballs and boil the pasta the night before, then go ahead and save yourself those steps.  But I do recommend making homemade meatballs (recipe is listed below). In fact, you can make them and freeze them without sauce so that when you want to eat them, you can decide later if you want them in marinara, stroganoff, alfredo, or sweet and sour. (PS– IF YOU ARE LOOKING FOR A VEGETARIAN ENTREE, FOLLOW ALL THESE STEPS EXCEPT Read more
Stuffed peppers are a delicious union of textures and are meant for slow cooking. But sometimes, the prep work of cutting and chopping and mixing and stuffing is just too much.  Consider this my recipe for "inside out stuffed peppers". I've figured out a way to get that same great result with even less time. It might not have the same presentation as beautifully stuffed bells, but if you are looking for ease and a great meal, this is a good sloppy way to serve a favorite dish. Enjoy!
1 lb. ground turkey or chicken
2 T. dried parsley
1/2 c. uncooked rice
1 t. salt
1/2 t. ground pepper
1/2 t. red pepper flakes Read more