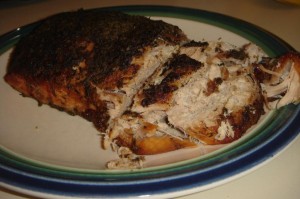 Ok fans, this one is really easy. It might surprise you to think about doing a roast in your crock pot, but again– anything that can be cooked in the oven, can be cooked in the crock pot. I started this roast while I drank my breakfast coffee and it was done by lunchtime. Dinner tonight is going to be a breeze. (I should note that my crockpot cooks quickly, even on low. You will want to use a meat thermometer to determine when your roast is cooked through. Pork is done when the internal temperature of the meat reached 160 degrees).
I like that the dry rub on this roast is simple and you can vary up the flavor and switch out other seasonings, if you prefer. I think that the brown sugar really complements the flavor of the pork, but if you'd rather cut down on the sweetness or calories, you can use other seasonings and leave out some of the brown sugar.
Enjoy this roast from your crockpot and savor the flavors. Add a couple side dishes and you'll have a complete meal for dinner tonight or even entertaining. Enjoy!
2 lb. pork loin rib end roast
1 t. thyme
1 t. parsley
1 t. garlic powder
1 t. cumin
1/2 t. black pepper
1/2 t. salt
3 T. brown sugar
1/2 c. water
Rinse roast and pat dry, then place in crock pot on metal trivet (this lets the juices run without letting the meat sit in the juice). Mix all seasonings and brown sugar in a separate bowl and place mix on the meat, patting down with your fingers until mixture is evenly distributed. Add 1/2 c. water to crock pot, but do not pour it on top of meat. Cook on low for 4-6 hours.
The morning is half over and my whole family is still wearing pajamas. Yay for snow days! But since  it's dreadful and cold outside, I need something hot and satisfying to fill our bellies. I decided that we should head south of the border tonight and enjoy some Mexican fare, so today I am sharing my recipe for chicken tortilla soup.  This recipe is simple and easy (and note– it freezes well, too!) and you can definitely vary the spiciness of the dish, depending how much heat your mouth can withstand.
I am sharing my basic recipe for this soup, but feel free to add any of the following to the pot for additional spice. I would recommend only picking one or two of these things as each one packs a punch:
1/2 t. cayenne pepper OR
1 chopped jalapeno pepper OR
1 t. Tabasco sauce
You can also decorate your chicken tortilla soup in a variety of ways. Try sprinkling some fresh, chopped cilantro on top, or a few slices of avocado. If the spice is more than you anticipated, cut it with Read more
After a great weekend away, it's nice to be back home to cook. But surprise!! Company for dinner tonight. I haven't had a chance to go to the grocery store yet, so I need to whip up something for dinner that is tasty and unique without needing a separate shopping list.
Here's one of my secrets– I always have tortillas in the refrigerator as a quick fix (think… chicken quesadillas, deli wraps, flatbread pizzas) and I also keep random cans of food in the pantry. Voila! Dinner is served. Seriously, it's just that easy. Try stocking your kitchen with some of these easy ingredients and next time you have last minute guests, you'll have a great meal to serve. Enjoy!
2 15 oz. cans of black beans, drained and rinsed
2 10 oz. cans of diced tomatoes with green chiles Read more
I love when my friends and fans share their recipes… everyone loves a good crock pot dish that is worthy of sharing! So from one crock pot fanatic to another, here is Sarah's recipe for vegetable chili. It sounds like a great way to use fresh produce and also make a vegetarian dish that will fill everyones' bellies with happiness. I especially like her tools of measurement.  Enjoy!
Chop one metric crap-ton (that's 1 HUGE zucchini, 3 small bell peppers, 2 big handfuls of green and wax beans and 2 ears of corn, hulled) to bite-sized pieces and drop into crock pot.  Add 3 (15 oz) cans of beans (I used pinto, kidney and dark kidney). Stir to combine.
Separately, combine 1 (8oz) can tomato sauce, 1 (6 oz) can tomato paste, 4 cloves minced garlic, 4 T chili powder, 1 T dried mustard powder, 1 t oregano and 1 t ground cumin.  Plop over veggies.
Add 1 box (4 C) vegetable stock.  (I like wetter chilis, but you can use less if you prefer a chunkier chili).  Stir to combine and coat all the veggies with the chili goodness.
Pop on low for …. I think mine was on for about 10 hours, so I'll go with the 8-10 hours on low.  At this point, you can add cooked elbow noodles, sour cream, cheese, fresh onion….whatever you like.
I'm thinking carrots would sweeten it up a bit if that's what you like.  OOH!  I bet barley would be good too….Lookie at me, cooking without a complete recipe.  My sister would be so proud! 

  Next recipe will be filled with "a pinch of" and "a dash of" and "half an eggshell of"…."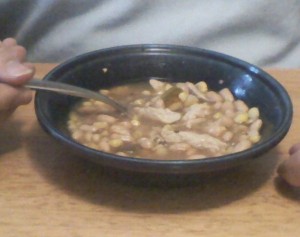 Did you catch the title?? Does it sound like a contradiction to say "vegetarian" and then "chicken" in the same meal?! It is not. Thanks to modern day culinary creativity, I can make chicken chili for friends that don't want to eat meat.  This is a pretty easy recipe, but I like that it is a crowd pleaser and still meets certain dietary limitations.
Give this chicken chili a try next time you host a friend that is vegetarian or keeps kosher– they will be so happy that you honored their wishes and still served tasty dishes. (yes, that rhyme was intentional.) And don't think this meal is for light weights—  you can serve this at your next party or sporting event and even the men will be raving about your soup– it's spicy, it's filling and everyone will enjoy!
4 c. vegetarian chicken broth
2 cans great northern beans (do not drain)
1 4 oz can diced green chiles (do not drain)
1/2 green pepper, chopped
1/2 medium onion, chopped
2 c. frozen corn Read more
We're going to a party this weekend and everyone is supposed to bring a side dish to go with a taco bar main course. It sounds like lots of fun (hoping for margaritas, good music and salty lime tortilla chips) and I figured I'd make something in the crock pot that would be hot and spicy, just like the crowd! While other people might bring chips or cold dips, this dish is really easy and yummy and a little unique. It's nice to have a hot dip that doesn't get crusty and weird from sitting out. Feel free to serve this with some additional jalapenos, salsa and sour cream. 
1 15 oz. can of vegetarian refried beans
1 c. chunky salsa (mild, medium or hot)
1 c. sliced black olives
1 c. shredded colby jack cheese
1 15 oz. can of black beans, drained and rinsed
1 t. cumin
1 t. chili powder
1/2 c. sour cream
Mix all ingredients together in crock pot, except for sour cream. Cook on low for 3 hours, then add sour cream, mix and heat for 1 more hour on low. Serve with tortilla chips meant for scooping. 
(If you have leftovers, try putting a hearty serving into a soft taco shell tomorrow with some shredded lettuce and diced tomatoes, it makes a great second meal!)
Here's your mission if you choose to accept it: make dinner for four adults and two kids when you are staying at a friends house, you found one pound of ground turkey in the freezer and there is a pantry of assorted cans. And…. GO!
While visiting friends this week, I figured it was only appropriate to help with meals since they are at work all day. I know there is a crock pot on staff in the kitchen, so I accepted this mission without hesitation. Crock pot cooking is just the easiest way to make a crowd-pleasing dish without making a huge mess.
With our mix of adults and kids, I figured crock pot sloppy joes would be great. But with only one pound of meat, I knew that I needed to pump up the dish with some added ingredients. This recipe worked out great because it kept the true flavor of sloppy joes, but included some extra protein. Try this out next time you have to feed friends or family members or are looking for a no-fuss take on an old-time favorite. Enjoy!
1 lb. ground turkey
1/2 medium onion, diced (or 3 T. dried minced onion)
1 green pepper, seeded and diced
1 14 oz. can of black beans, drained and rinsed Read more
There used to be this great Greek restaurant that I frequented that served lentil soup in a styrofoam cup. It was always hot and fresh and the lentils were soft without being mushy. I would frame my entire meal around saving room and money for the soup.  This recipe mirrors the flavors and warmth of the soup but without a disposable cup. Unlike my vegetarian vegetable soup which is savory and chunky, this lentil soup is hearty and robust with even more amazing health benefits. Lentils are high in protein, iron, amino acids and when you add in the lycopine in the tomatoes and then all the vitamins, folic acid and antioxidants in the spinach… this soup is like a power boost for your whole system. Oh yeah, and Read more