I had three reasons for creating crock pot hot and sour soup this week…
1. Chinese New Year was on Monday and I forgot to order takeout.
2.  I've been trying to do at least one meatless meal each week.
3. Hot and sour soup is amazing for clearing up a stuffy nose and a winter cold!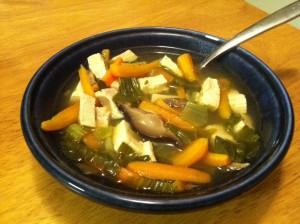 As with all my soups, I like more "stuff" than "broth" so my hot and sour soup is more crowded that what you get at a Chinese restaurant, but I think you'll like this as a full meal and not just an appetizer. Plus, it can be made completely vegetarian and I think it's gluten-free, so this is a great dish if you are cooking for people with food limitations.
If you didn't get a chance to celebrate the Chinese New Year either, then whip up a quick batch of this hot and sour soup to start the year out like a fire-breathing dragon! (but you don't need to make it that spicy if you don't want!)
3 oz.  shiitake mushrooms (I bought a 6 oz. jar of mushrooms in liquid and used half)
2 cups baby carrots, quartered
3 medium green onions, sliced
3 cups bok choy, chopped
4 c. low-sodium chicken broth
1/3 c. rice vinegar
1 T. soy sauce
1 t. ground ginger
1 t. sesame oil
2 t. sriracha sauce (Asian red pepper sauce, also sometimes called rooster sauce)
1 package extra-firm tofu, drained and cut into half-inch cubes
Put all ingredients EXCEPT TOFU into crock pot and stir into mixed. Cook on high for 3-4 hours (or until carrots are soft enough) then add cubed tofu and cook for one more hour.
I've always been a fan of our grill… really, for two reasons. 1. In the summertime, it's a great way to eat healthy and not heat up the kitchen and 2. when we grill, my husband is usually the one cooking!  Since it's been such a mild winter, we've been taking advantage of the unseasonably warm evenings and grilling our food. But since local produce isn't as plentiful in January, I've been getting creative.
So I've been grilling sweet potatoes. Sure, they get their glory at Thanksgiving when they are smothered and covered by marshmallows or syrup or sugar. Sometimes they even make a repeat performance at Christmas or Easter or Passover, but my new absolute favorite way to eat a sweet pot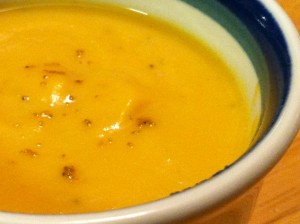 ato is by grilling it to perfection.
It's so easy, let me tell you the few easy steps… Wash your sweet potatoes. Poke fork holes all over. Wrap sweet potato in aluminum foil. Grill on med-high heat for one hour, turning the sweet potato halfway through. That's it! When the sweet vibrant goodness is done, it will be easy to squeeze the flesh with tongs. Please be cautious though, sometimes the sweet juices will run out of the foil (and I don't want you to get burned).
So a couple nights ago, I grilled five sweet potatoes. I figured we would eat the leftovers so I made a couple extra. And these extra potatoes became the inspiration for tonight's new recipe! With a few ingredients I already had on hand, I was able to literally "whip together" this amazing meal. This crock pot sweet potato soup is thick and hearty and even though soup might not be fresh and exciting for a winter meal, adding in the flavor from the grill really makes a difference. 
2 medium sweet potatoes, already cooked in grill or oven, cooled and then skinned
3 c. chicken broth
1/2 c. caramelized onions
1/4 t. nutmeg
1/4 t. chili powder
1/4 t. celery seed
1/4 t. curry powder
1 clove garlic, minced
1/2 c. heavy cream
Put all ingredients (except heavy cream) in crock pot, stir and then cook on low for 3-4 hours. Use a hand blender and puree mixture until smooth, then stir in heavy cream. Serve hot with a tiny sprinkle of nutmeg or curry on top.
This afternoon, I went with my family to an apple orchard to pick fresh, local produce to enjoy. It felt organic. Not in the "lacking chemicals and pesticides" way, but in the "feeling connected to the earth and supporting something good". My kids loved picking the fruit and sampling all the different kinds of apples.  I am eager to make my escalloped apples recipe as soon as possible.
 But the best part of the day was coming home to dinner already made and a very hungry family to feed!
One of my favorite meals to cook and eat is pot roast– meat, potatoes, carrots, celery, onions… all the basics. It's so filling and full of great nutrients. One crock pot is a whole meal. But sometimes I like to vary it up a little.  I made a very similar recipe today, but instead of beef, I used three turkey legs as our protein.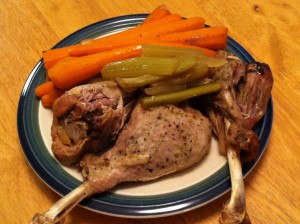 The meat becomes so tender it falls off the bone. I used whole carrots because they make such a nice presentation and Read more
 One of my favorite new indulgences is Thai food.  I started a few years ago with Pad Thai. It's like the thai version of lomein, which is really just a step above the college-grade ramen noodle. But it started to introduce me to new flavors. Then, I moved up and through a few of the curry dishes; I quickly learned my ridiculously low capabilities for spicy food. I like my thai dishes with either chicken, tofu or shrimp– I just think think that these proteins absorb the most flavor from everything else it's cooked in.
There are some particular seasonings for Thai food, though, and I just don't keep these things in my kitchen yet.  So while I'd love to have lemongrass and keffir lime leaves abundantly available or even know where to buy some galangal, I'm replacing some of these flavors with some easier go-to foods that you can find at your regular grocery store.
My crock pot Thai chicken soup is an interpretation of a traditional Thai tom kha soup. It still has the coconut milk, chicken and mushrooms, but I use ginger instead of galangal and lime juice for Read more
The title of this recipe is a lie. This isn't a soup. But it's not a stew and it's not just a pasta main course, so I don't know what else to call it. Technically, it does have broth in it, so therefore I qualify it as a soup. And since it's my blog, I get the right to label it however I want to! But this is my disclaimer– there is nothing light weight or soupy about this dish. It is delicious and easy and full of flavor and takes just a few ingredients and a few minutes to make a whole meal. BUT– all of those details are way too much to put in the title, so I just call it tortellini soup. Enjoy!
1 28 oz. can of diced tomatoes (do not drain)
1 brick of frozen chopped spinach (no need to thaw, just dump it in frozen)
3 cloves garlic, minced
2 cups chicken broth
1/2 small onion, chopped
2 12-oz. packages of frozen cheese tortellini
Parmesan cheese
Put all ingredients EXCEPT tortellini in the crock pot. Cook on high for 3 hours. Add frozen tortellini to the pot, stir it around and cook on high for one more hour.  Top with a little Parmesan cheese when served.
This is great sick food. Not food that will make you sick, but a food that falls into the same category as matzah ball soup, egg drop soup and homemade mashed potatoes– these foods all make you feel better! I'll warn you that this dish is very bland, so if you'd like to eat it when you are aren't queasy or feverish, you might want to add some more veggies and seasonings. When you read this recipe, save it to your favorites so that next time you are sick, you have a go-to recipe for an easy dish to make everyone feel better. Enjoy! (and stay healthy!)
1 c. quinoa, rinsed and drained
2 c. chicken broth
1/2 medium onion, chopped
3 carrots, sliced
6 skinless chicken thighs (about 1.5 lbs) Read more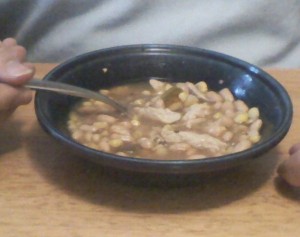 Did you catch the title?? Does it sound like a contradiction to say "vegetarian" and then "chicken" in the same meal?! It is not. Thanks to modern day culinary creativity, I can make chicken chili for friends that don't want to eat meat.  This is a pretty easy recipe, but I like that it is a crowd pleaser and still meets certain dietary limitations.
Give this chicken chili a try next time you host a friend that is vegetarian or keeps kosher– they will be so happy that you honored their wishes and still served tasty dishes. (yes, that rhyme was intentional.) And don't think this meal is for light weights—  you can serve this at your next party or sporting event and even the men will be raving about your soup– it's spicy, it's filling and everyone will enjoy!
4 c. vegetarian chicken broth
2 cans great northern beans (do not drain)
1 4 oz can diced green chiles (do not drain)
1/2 green pepper, chopped
1/2 medium onion, chopped
2 c. frozen corn Read more